Project Runway: Season Three
Updated February 11, 2017 |
Infoplease Staff
Fashion icons, matching outfits for dogs and their owners, and more were notable challenges in this season
by Mark Hughes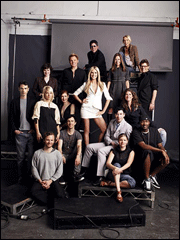 Project Runway Quizzes
Project Runway Seasons
Project Runway Biographies
Related Links
Premiered: July 20, 2006
Season 3
Winning Designer: Jeffrey Sebelia
Second Place: Uli Herzner
Third Place: Laura Bennett
Fourth Place: Michael Knight
Prizes:
$100,000 from TRESemmé
2007 Saturn Sky Roadster
A spread in Elle magazine
Mentorship with INC (International Concepts) Design
A year of representation by Designers Management Agency
Fun Facts
Season 1 and 2 had three finalists. Season 3 had four.
The finale of seasons 1 and 2 took place during February's Fashion Week that previewed fall collections. Finalists for season 3 got to design and show their collections for spring in September 2006.
Notable competitions for this season:
Episode 2: Wall to Wall Fashion
Designers were asked to create an outfit that best reflects their style. They were given a large bag and told to use any material they found in their apartments.
Episode 4: Designer's Best Friend
Designers created an outfit and a story for a dog and its owner.
Episode 5: Iconic Statement
The models made the decisions in this challenge. They chose the designer who would remake them into a fashion icon. The models chose from this list of fashion icons: Audrey Hepburn, Cher, Diana Ross, Farrah Fawcett, Jackie Onassis, Katharine Hepburn, Madonna, Marilyn Monroe, Pam Grier, and Twiggy.
Episode 6: Waste Not, Want Not
Designers had to create innovative outfits using only materials found at the Waste Management Recycle America Center.
Episode 9: High Flying Fashion
Designers were also the models in this week's challenge. They had to create an outfit that represented an "international jetsetter". The garment had to travel well since the designer and outfit would not be judged until they arrived in Paris.
Episode 10: Couture du Jour
Still in Paris, the designers were asked to create a couture evening gown. The gowns were judged twice, once in Paris by guest-judge fashion designer Catharine Malandrino and then back in New York with Klum, Kors, and Garcia.
Finale Judges: Heidi Klum, Michael Kors, Nina Garcia, and Fern Mallis (founder of New York Fashion Week).
.com/entertainment/tv/project-runway-season-three.html