New York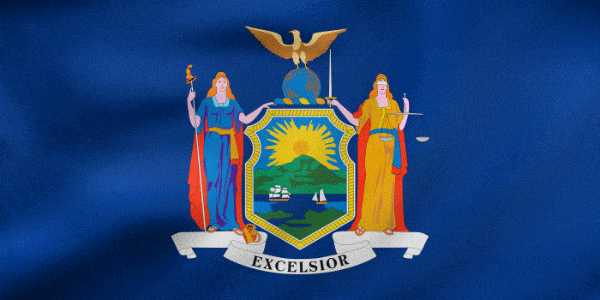 State abbreviation/Postal code: N.Y./NY
Governor: Andrew Cuomo, D (to Jan. 2019)
Lieut. Governor: Kathy Hochul, D (to Jan. 2019)
Senators: Charles E. Schumer, D (to Jan. 2023); Kirsten Gillibrand, D (to Jan. 2019)
Historical biographies of Congressional members
Secy. of State: Rossana Rosado (apptd. by governor)
Comptroller: Thomas P. DiNapoli, D (to Jan. 2019)
Atty. General: Eric Schneiderman, D (to Jan. 2019)
Entered Union (rank): July 26, 1788 (11)
Present constitution adopted: 1777 (last revised 1938)
Motto: Excelsior (Ever upward)
| | |
| --- | --- |
| animal | beaver (1975) |
| fish | brook trout (1975) |
| gem | garnet (1969) |
| flower | rose (1955) |
| tree | sugar maple (1956) |
| bird | bluebird (1970) |
| insect | ladybug (1989) |
| song | "I Love New York" (1980) |
Nickname: Empire State
Origin of name: In honor of the Duke of York
10 largest cities (2012 est.): New York, 8,336,697; Brooklyn, 2,538,705; Queens, 2,277,251; Manhattan, 1,621,897; Bronx, 1,383,871; Staten Island, 481,026; Buffalo, 259,384; North Hempstead, 227, 058; Rochester, 210,532; Yonkers , 198,449
Land area: 54,555 sq mi (141,300 km2)
Geographic center: In Madison Co., 12 mi. S of Oneida and 26 mi. SW of Utica
Number of counties: 62
Largest county by population and area: Kings, 2,486,235 (2005); St. Lawrence, 2,686 sq mi.
State forest preserves: Adirondacks, 2,500,000 ac.; Catskills, 250,000 ac.
State parks: 176
Residents: New Yorker
2015 resident population est.: 19,795,791
2000 resident census population (rank): 18,976,457 (3). Male: 9,146,748 (48.2%); Female: 9,829,709 (51.8%). White: 12,893,689 (67.9%); Black: 3,014,385 (15.9%); American Indian: 82,461 (0.4%); Asian: 1,044,976 (5.5%); Other race: 1,341,946 (7.1%); Two or more races: 590,182 (3.1%); Hispanic/Latino: 2,867,583 (15.1%). 2000 percent population 18 and over: 75.3; 65 and over: 12.9; median age: 35.9.
Giovanni da Verrazano, an Italian-born navigator sailing for France, discovered New York Bay in 1524. Henry Hudson, an Englishman employed by the Dutch, reached the bay and sailed up the river now bearing his name in 1609, the same year that northern New York was explored and claimed for France by Samuel de Champlain.
In 1624 the first permanent Dutch settlement was established at Fort Orange (now Albany). One year later Peter Minuit purchased Manhattan Island from the Indians for trinkets worth about 60 Dutch guilders and founded the Dutch colony of New Amsterdam (now New York City), which was surrendered to the English in 1664.
New York's extremely rapid commercial growth may be partly attributed to Gov. De Witt Clinton, who pushed through the construction of the Erie Canal (Buffalo to Albany), which was opened in 1825. Today, the 641-mile Gov. Thomas E. Dewey Thruway connects New York City with Buffalo and with Connecticut, Massachusetts, and Pennsylvania express highways. Two toll-free superhighways, the Adirondack Northway (linking Albany with the Canadian border) and the North-South Expressway (crossing central New York from the Pennsylvania border to the Thousand Islands), have been opened.
The great metropolis of New York City is the nerve center of the nation. It is a leader in manufacturing, foreign trade, commerce and banking, book and magazine publishing, and theatrical production. A leading seaport, its John F. Kennedy International Airport is one of the busiest airports in the world. New York is also home to the New York Stock Exchange, the largest in the world. The printing and publishing industry is the city's largest manufacturing employer, with the apparel industry second.
Nearly all the rest of the state's manufacturing is done on Long Island, along the Hudson River north to Albany, and through the Mohawk Valley, Central New York, and Southern Tier regions to Buffalo. The St. Lawrence seaway and power projects have opened the North Country to industrial expansion and have given the state a second seacoast.
The state ranks sixth in the nation in manufacturing, with 446,200 employees in 2009. The principal industries are printing and publishing, industrial machinery and equipment, electronic equipment, and instruments. The convention and tourist business is also an important source of income.
New York farms produce cattle and calves, corn and poultry, and vegetables and fruits. The state is a leading wine producer.
New York was hit particularly hard by 2012's Superstorm Sandy in late October. The storm was responsible for 60 deaths in the state—43 in New York City, more than 305,000 houses or apartments in the state were damaged or destroyed, a fire in the Breezy Point section of Queens completely devastated more than 100 homes, and New York City's subway system was crippled by flooded stations. Sandy caused nearly $33 billion in damages in New York.
Major points of interest are Castle Clinton, Fort Stanwix, and Statue of Liberty National Monuments; Niagara Falls; U.S. Military Academy at West Point; National Historic Sites that include homes of Franklin D. Roosevelt at Hyde Park and Theodore Roosevelt in Oyster Bay and New York City; the Women's Rights National Historical Park in Seneca Falls; National Memorials, including Grant's Tomb and Federal Hall in New York City; Fort Ticonderoga; the Baseball Hall of Fame in Cooperstown; and the United Nations, skyscrapers, museums, theaters, and parks in New York City.
See more on New York:
Encyclopedia: New York
Encyclopedia: Geography
Encyclopedia: Economy
Encyclopedia: Government
Encyclopedia: History
Monthly Temperature Extremes
All U.S. States: Geography & Climate
Printable Outline Maps
Record Highest Temperatures
Record Lowest Temperatures
Highest, Lowest, and Mean Elevations
Land and Water Area
All U.S. States: Population & Economy
Historical Population Statistics, 1790-Present
Per Capita Personal Income
Minimum Wage Rates
State Taxes
Federal Government Expenditure
Percent of People in Poverty
Births and Birth Rates
Homeownership
Percentage of Uninsured by State
All U.S. States: Society & Culture:
Most Livable States
Healthiest States
Most Dangerous States
Smartest States
Crime Index
Residency Requirements for Voting
Compulsory School Attendance Laws
Driving Laws
National Public Radio Stations
Selected famous natives and residents: