Project Runway: Season One
Updated February 11, 2017 |
Infoplease Staff
Notable challenges included designing a dress from items in a supermarket and imagining fashion from the year 2050
by Mark Hughes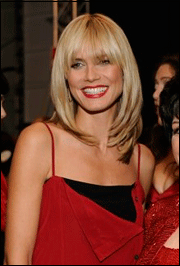 Project Runway Quizzes
Project Runway Seasons
Project Runway Biographies
Related Links
Premiered: Dec. 1, 2004
Nominated for an Emmy Award for Outstanding Competition Reality Series
Season 1
Winning Designer: Jay McCarroll
Second Place: Kara Saun
Third Place: Wendy Pepper
Prizes:
$100,000 cash prize
Mentorship from Banana Republic
Display of the winning work in Elle magazine
Fun Fact: Jay McCarroll chose not to accept the cash prize to create a brand of clothing when he discovered that the Weinstein Company (the production company behind Project Runway) would forever take 10% of any profits he made.
Competitions for this season included:

Episode 1: Innovation
Using only materials available from a supermarket, designers had to create a sexy, elegant dress for a night out on the town.
Episode 7: Design a Collection
Designers worked in teams of three to create a fashion collection representing the year 2055.
Episode 8: Postal Uniform Challenge
Contestants were asked to redesign the uniform for United States Postal Service workers.
Finale Judges: Heidi Klum, Michael Kors, , and Parker Posey.
.com/entertainment/tv/project-runway-season-one.html