Project Runway
Updated February 11, 2017 |
Infoplease Staff
Searching for the best new fashion designers
by Mark Hughes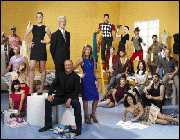 Related Links
The Show
About Project Runway
Brief history and description of the Peabody Award-winning show Project Runway
Project Runway Quiz
Which winning designer chose not to accept some prizes?
Tim Gunn's Vocabulary Quiz
What's he saying? "It looks like faux bois [pronounced "foe bwah"]."
New York Fashion Week
The biannual event where designers show off their latest collections for the fall and spring seasons
Judges
Heidi Klum
Fashion model and host of Project Runway
Tim Gunn
Mentor extraordinaire whose advice is emboldened by his myriad life experiences
Michael Kors
Since 1981, the Kors label has been a palpable force in the fashion industry.
Nina Garcia
Armed with formidable knowledge and experience, Garcia is known as the tough judge on the show.
Winning Designers
Jay McCarroll
The winner of the first season of Project Runway is a sassy, creative man from Pennsylvania
Chloe Dao
The Houston, Texas native is an entrepreneur and fashion designer.
Jeffrey Sebelia
Stylish and self-taught, Sebalia added a dynamic element to an already diverse show.
Christian Siriano
Easily the "fiercest" personality and designer of the show's fourth season
Season Highlights
Project Runway: Season One
Notable challenges included designing a dress from items in a supermarket and imagining fashion in the year 2050.
Project Runway: Season Two
Designers in this season faced challenges ranging from making garments out of plants to creating a dress specifically for guest judge Iman.
Project Runway: Season Three
Fashion icons past and present and designing matching outfits for dogs and their owners, and more were notable challenges in this season
Project Runway: Season Four
Creating prom dresses and wrestling outfits were among the many challenges in this season
.com/entertainment/tv/project-runway.html