Project Runway: Season Four
Updated February 11, 2017 |
Infoplease Staff
Prom dresses and wrestling outfits were among the many challenges in this season
by Mark Hughes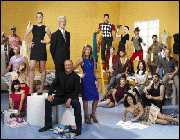 Project Runway Quizzes
Project Runway Seasons
Project Runway Biographies
Related Links
Premiered: November 14, 2007
Season 4
Winning Designer: Christian Siriano
Second Place: Rami Kashou
Third Place: Jillian Lewis
Prizes:
$100,000 from TRESemmé
2008 Saturn Astra
An editorial feature in Elle magazine
The opportunity to sell a fashion line on Bluefly.com
Notable competitions for this season:
Episode 2: Money Changes Everything
Designers were given $15 and one day to complete a two-piece outfit for BITTEN, a clothing line from Sarah Jessica Parker, who also served as guest judge for this week.
Episode 3: Fashion Giant
Tiki Barber, a former NFL player and a regular correspondent on The Today Show, was the guest judge this week. Designers were asked to create three-piece menswear outfit for Barber to wear on his show.
Episode 7: What a Girl Wants
A group of 16- and 17-year-old girls, along with their mothers, selected designers to create their prom dresses.
Episode 10: Raw Talent
Designers are asked to create outfits for six "divas" from World Wrestling Entertainment. Each outfit had to match the attitude of the diva and be able to survive the wrestling ring.
Finale Judges: Heidi Klum, Michael Kors, Nina Garcia, and Victoria Beckham
.com/entertainment/tv/project-runway-season-four.html