Cite
New York Fashion Week
Updated February 11, 2017 |
Infoplease Staff
Fashion designers display their latest collections to influential buyers and writers
by Mark Hughes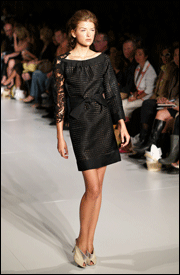 Project Runway Quizzes
Project Runway Seasons
Related Links
What Is Fashion Week?
New York Fashion Week is an event that takes place twice a year, including one week at Bryant Park in Manhattan. Fashion Week is full of shows and events that allow fashion designers to display their latest collections to influential buyers and writers.
Buyers and Writers?
Buyers are very knowledgeable about the fashion industry and attend the shows to buy designs that they hope will sell well in their retail stores. Writers are the eyes and ears of the public and write about their reactions to the collections in magazines, newspapers, and websites.
When and Where?
February and September are when New York Fashion Week occurs. Fashion collections for the fall are shown in February, while September heralds the upcoming fashions for spring.
For the event, large tents are erected in Bryant Park. Each tent is huge, up to 12,000 square feet, and houses multiple venues. They are air-conditioned spaces that boast a complete runway, seating for attendees, backstage areas, music, and lighting. Music and lighting are key components to the shows. Designers set the mood by choosing music and lighting to complement and help tell the story of their collections.
Anything Else?
Fashion week was formed in 1993 by the Council of Fashion Designers of America. In addition to New York, there are major fashion weeks in Milan, Paris, and London.
.com/entertainment/tv/new-york-fashion-week.html
Trending
Here are the facts and trivia that people are buzzing about.