2012 World News: Russia
Updated February 28, 2017 |
Infoplease Staff

Putin Returns to the Presidency but Protest Movement Gathers Steam
by Beth Rowen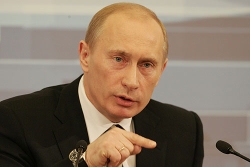 Related Links
Egypt's New President Faces Challenges, Successes, and Criticism | Geopolitical Maritime Dispute Shares Headlines with Change of Leadership in China | No End in Sight in Syria's Civil War as Casualties Mount | Iran Continues to Pursue Nuclear Program and Taunts Israel | Israel Focuses on Iran and Internal Politics | UN Upgrades Palestinian Authority's Status After Battles Breakout in Gaza | Libya Holds First Post-Qaddafi Election | A Look at Kim Jong-Un's First Year as Leader of North Korea | As U.S. Continues to Withdraw Troops from Afghanistan, Taliban Attacks Reveal Nation's Vulnerability | London Hosts the 2012 Summer Olympics


Anti-Kremlin protests that began in Dec. 2011 in response to supposedly fraudulent parliamentary elections, continued into 2012 and the lead-up to the presidential election. Vladimir Putin won the election on March 4, taking 64% of the vote. Observers from the Organization for Security and Cooperation in Europe challenged the election, saying Putin prevailed because he had no competition and had government money at his disposal. Thousands of demonstrators in Moscow and St. Petersburg took to the streets again. Inspired by the protests against Putin, about 200 young Muscovites ran as independent candidates in municipal March 2012 elections. More than 70 of them won spots on district councils. The elections were proof that the protests had impacted the political system.

Putin nominated former president Dmitry Medvedev as prime minister, and the two swapped roles once again.

Protests continued and turned violent just before Putin's inauguration to a third term in May. In an attempt to curb the movement, Putin signed a law in June imposing a $9,000 fine on protesters and an $18,000 fine for organizers of demonstrations. The law gave Russian authorities the power to crack down on the anti-government protests. More than 10,000 protesters brazenly took to the Moscow streets in response to the new law. Putin continued his assault on political activity and dissent, passing a series of new laws and detaining anti-government organizers. Members of the all-female punk band Pussy Riot became a cause célí¨bre after they were convicted of hooliganism and sentenced to two years in a penal colony for performing an anti-Putin song on the altar of Moscow's main Orthodox cathedral. The case drew international attention and condemnation of Russia for suppression of political speech and beliefs.
Russia and China Block Action Against Syria at the UN
In February, Russia made international headlines by blocking an effort by the UN Security Council to end the violence in Syria. Russia, along with China, vetoed a resolution backing an Arab League peace plan for Syria, calling it a violation of Syria's sovereignty. Russia also continued to provide weapons to Syrian president Bashar al-Assad as well as diplomatic support. The two nations vetoed another Security Council resolution in July that would have imposed sanctions on the Syrian government.
.com/news/year-in-review/2012/russia.html