2012 World News: North Korea
Updated February 28, 2017 |
Infoplease Staff

A Look at Kim Jong-Un's First Year as Leader of North Korea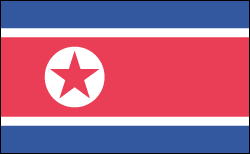 Flag of North Korea
Related Links
Egypt's New President Faces Challenges, Successes, and Criticism | Geopolitical Maritime Dispute Shares Headlines with Change of Leadership in China | No End in Sight in Syria's Civil War as Casualties Mount | Iran Continues to Pursue Nuclear Program and Taunts Israel | Israel Focuses on Iran and Internal Politics | UN Upgrades Palestinian Authority's Status After Battles Breakout in Gaza | Libya Holds First Post-Qaddafi Election | As U.S. Continues to Withdraw Troops from Afghanistan, Taliban Attacks Reveal Nation's Vulnerability | Putin Elected to a Third Term as Russian President but Protest Movement Gathers Steam | London Hosts the 2012 Summer Olympics


After Kim Jong-il's death in Dec. 2011, Kim Jong-un succeeded his father and was given the title "Great Successor." Leaders and observers throughout the world expressed concern that Kim Jong-un would seek to prove himself a worthy successor to his father with an aggressive pursuit of nuclear weapons.

There was a sense of cautious relief in late February when North Korea announced it was suspending uranium enrichment at its processing facility in Yongbyon and halting tests of weapons and long-range missiles. In answer, the U.S. said it would resume food aid to the impoverished nation. Analysts speculated that Kim Jong-un might be attempting to win the favor of North Koreans with the infusion of food or beginning to chart a new path in foreign relations. However, North Korea has made such promises in the past only to later renege. Sure enough, on April 12, the country attempted to launch a rocket carrying a satellite into orbit, but the rocket blew up seconds after the launch. The failure was an embarrassment to Kim Jong-un, who had just been honored with two new titles: leader of the national defense commission, the nation's most powerful government agency; and first secretary of the Workers' Party of Korea. The launch coincided with the celebration of the 100th birthday of North Korea's founder and Kim Jong-un's grandfather, Kim Il-sung. In response to the attempt, the U.S. suspended 240,000 tons of food aid to North Korea.

North Korea's next attempt to put a satellite into orbit was not a failure—at first. The successful launch of a rocket on Dec. 12 indicated that the country was inching closer toward developing the expertise to build an intercontinental ballistic missile. It also boosted Kim Jong-un's credibility both domestically and internationally, illustrating his seriousness in advancing the country's military capabilities. The launch took the world by surprise and prompted a call for another round of sanctions. Less than a week later, astronomers reported that the satellite was spinning in orbit, a sign that it had failed post-launch.
.com/news/year-in-review/2012/north-korea.html