2011 World News: Russia
Updated February 28, 2017 |
Infoplease Staff

Parliamentary Elections Spark Massive Protests
by Jennie Wood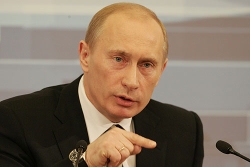 Related Links
Arab Spring Creates Tumult in the Middle East | European Nations Battered by Euro Debt Crisis | Osama bin Laden Killed in Pakistan | Advances in Iran's Nuclear Program Lead to Additional Sanctions | U.S. Withdraws Completely from Iraq | Hope for Peace Fades for Israelis and Palestinians | Pakistan's Relationship with U.S. Steadily Deteriorates | Earthquake in Japan Causes Wide Destruction and a Nuclear Disaster | Phone-Hacking Scandal a Major Embarrassment for Media Mogul Murdoch | World Population Reaches a New Milestone | Prince William and Kate Middleton Marry in a Lavish Royal Wedding | North Korean Leader Kim Jong-il Dies



Prime Minister Vladimir Putin announced in September 2011 that he would run for president as the candidate of the United Russia party in March 2012 elections. In a deal that was reportedly struck two years ago, Putin and President Dmitry Medvedev will swap positions, with Medvedev assuming the role as head of the party and thus becoming prime minister. Putin is all but assured to sweep the election and serve another six years as president. The announcement confirmed the widely held assumption that Putin runs the country.

December 4, 2011, parliamentary elections sparked protests, mainly from middle-class Russians. International and local monitors condemned the election as fraudulent. United Russia, the party led by Putin, came out on top in the elections, receiving nearly 50% of the vote, but they lost 77 seats—a stunning setback and embarrassment for Putin. Monitors said that United Russia would have lost more seats were it not for ballot-box stuffing and voting irregularities. For example, videos, some taking with cellphones, surfaced on the internet showing local authorities threatening subordinates at polling stations.

The height of the protests came on December 10, when more than 40,000 Russians rallied near the Kremlin. It was the largest anti-Kremlin protest since the early 1990s. The activists called for Putin's resignation and denounced the election results. Three minority parties in Parliament also complained about the election's outcome, but disagreed on how to respond to the irregularities. President Medvedev called for an inquiry into the election fraud. Meanwhile, Putin accused the United States, singling out Secretary of State Hillary Rodham Clinton, for instigating the demonstrations when she criticized the parliamentary elections.

On December 12, billionaire industrialist Mikhail Porkhorov announced that he planned to run for president against Putin in 2012. Porkhorov owns many businesses in Russia as well as the New Jersey Nets, the NBA franchise, in the United States. In his announcement, Porkhorov said, "I made a decision, probably the most serious decision in my life: I am going to the presidential election." Many observers questioned if Porkhorov was truly challenging Putin or if he had Putin's approval to run to create an air of legitimacy to the race.
.com/news/year-in-review/2011/russia.html