Cite
U.S. News: The Official End to the War in Iraq
Updated February 28, 2017 |
Infoplease Staff

Major U.S. news stories, from health-care reform to "Don't Ask, Don't Tell"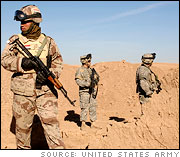 Related Links

Arizona Immigration Law Pushes the Limit | Health Care Reform: Years in the Making, Still Doesn't Satisfy | Landmark Financial Regulation Bill | Midterm Elections | A New Era for U.S., Russia, and Nuclear Arms | Passing the Buck on "Don't Ask, Don't Tell" | Same-Sex Marriage Ban Temporarily Overturned in California | The Supreme Court: Personnel Changes & Major Decisions | Tea Party Victories
The Official End to the War in Iraq
On August 31, seven years after the war in Iraq began, President Obama announced the end of Operation Iraqi Freedom with the withdrawal of combat troops. The president emphasized that U.S. domestic problems, mainly the struggling economy and widespread unemployment, were more pressing matters to the country. The U.S. will continue to be a presence in Iraq, mainly with civilian contractors but also with a smaller military contingent of approximately 50,000 troops. The remaining troops are scheduled to leave Iraq by the end of 2011.
The announcement came just two weeks after the U.S. State Department announced that it would increase the presence of civilian contractors in 2011. Contractors will be responsible for training Iraqi police and preventing confrontations between the Iraqi Army and civilian groups.
For more information related to Iraq:
.com/news/year-in-review/2010/iraq-war-ends.html
Trending
Here are the facts and trivia that people are buzzing about.