Cite
Science News, 2010
Updated February 28, 2017 |
Infoplease Staff

Major science news stories, from the Gulf of Mexico oil spill to the Chilean miners trapped undergrounds
by Catherine McNiff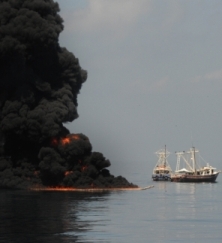 Related Links
The oil spill in the Gulf of Mexico made headlines in 2010 not only for its devastating effect on the environment and the deaths it caused, but also for forcing the U.S. government to rethink its off-shore drilling policy and for exposing gaps in the enforcement of drilling regulations. The rescue of 33 Chilean miners trapped underground for 68 days and the confirmation that a particle exists that explains our matter-heavy universe were remarkable—and deserving—headlines in science news.
Life Underground in Chile
All 33 miners rescued after spending 68 days trapped
A Deadly Spill in the Gulf of Mexico
Oil gushed for 86 days before the flow was finally stopped
Why Is the Universe Composed of Matter?
A new physics is being revealed in the results of proton collisions produced at the Fermi National Accelerator Laboratory
Comets Might Explain How Planets Are Made
Comets might help us unlock the secret of how the planets were made
.com/news/year-in-review/2010/science.html