Cite
U.S. News: The Supreme Court: Personnel Changes & Major Decisions
Updated February 28, 2017 |
Infoplease Staff

Major U.S. news stories, from health-care reform to "Don't Ask, Don't Tell"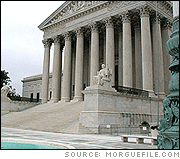 Related Links

Arizona Immigration Law Pushes the Limit | Health Care Reform: Years in the Making, Still Doesn't Satisfy | Landmark Financial Regulation Bill | Midterm Elections | A New Era for U.S., Russia, and Nuclear Arms | The Official End to the War in Iraq | Passing the Buck on "Don't Ask, Don't Tell" | Same-Sex Marriage Ban Temporarily Overturned in California | Tea Party Victories
The Supreme Court: Personnel Changes & Major Decisions
The President's Second Nomination
After serving on the court for 35 years, Supreme Court Justice John Paul Stevens retired in the summer of 2010, opening the door for President Obama to choose a new justice for the court, his second opportunity to do so. His first pick, Sonia Sotomayor, proved divisive and controversial, but was confirmed to the position in August 2009.
Though Justice Stevens was appointed in 1975 by Republican president Gerald Ford, and considered a moderate conservative at the time, he proved to be one of the most reliably liberal-voting judges on the court. Any choice Obama made would not greatly influence the political leanings of the court. In the end, Obama selected his then-Solicitor General Elena Kagan as his nominee for the Supreme Court Justice position; though Kagan was the first female dean of Harvard Law School and had served in all three branches of government, she had no prior judicial experience, a qualification that hadn't been lacking in a justice in 40 years. In August, Kagan was confirmed to the Supreme Court by a Congressional vote of 63 to 37, becoming the fourth woman ever to serve in that position.
Decisions in Brief
In May, the U.S. Supreme Court voted 5-to-4 against life sentences for juveniles who commit crimes other than murder. To give an offender under the age of 18 a sentence of life without parole is unconstitutional, they said, and would break the Eighth Amendment's ban on "cruel and unusual punishment."
The following month, the Supreme Court ruled in another 5-to-4 decision that the Second Amendment's guarantee, the right to bear arms, applies to local and state gun control laws. Justice Samuel Alito, who spoke for the majority, said the right to self defense is fundamental to American civil liberties. The decision was a particular blow to the local government in Chicago and Oak Park, Illinois, where handguns were essentially banned.
Free Speech: A 2010 Trend
In 2010, the Supreme Court answered on a string of cases regarding free speech. In a 5-4 decision made in January in Citizens United v. Federal Election commission, the U.S. Supreme Court ruled that the government cannot restrict the spending by corporations for political campaigns, maintaining that it's their First Amendment right to support candidates as they choose. This decision upset two previous precedents on the free-speech rights of corporations. President Obama expressed disapproval of the decision, calling it a "victory" for Wall Street and big business. Other dissidents argued that the availability of using corporate money in elections will quickly corrupt democracy by increasing the likelihood of policy promises. Major corporations that would benefit from tax breaks, for example, may financially support a candidate who promises to support tax incentives for businesses.
In April, the Court struck down by a vote of 8-to-1 a federal law that forbade creating or selling dogfight videos, and other examples of animal cruelty, because the legislation restricted free speech.
A 6-to-3 decision regarding free speech versus national security was made in June; the Supreme Court upheld a federal law that made it illegal to give "material support" to foreign terrorist organizations, no matter how the aid is meant to be used. Justices John Paul Stevens, Antonin Scalia, Clarence Thomas, Anthony Kennedy, and Samuel Alito supported the majority decision, claiming that any support, even if it's intended for peace-keeping operations, "bolsters the terrorist activities of that organization."
For more information on the United States Supreme Court and its Justices:
.com/news/year-in-review/2010/supreme-court.html
Trending
Here are the facts and trivia that people are buzzing about.