About Project Runway
Updated February 11, 2017 |
Infoplease Staff
Brief history and description of the Peabody Award winning show Project Runway
by Mark Hughes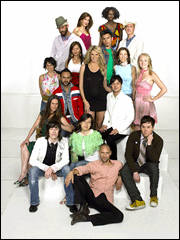 Project Runway Quizzes
Project Runway Seasons
Project Runway Biographies
Related Links
Since its debut on Bravo in 2004, Project Runway, a Peabody Award winning and Emmy-nominated fashion-competition reality series, has attracted a loyal and growing audience.
Shapely Competition: The Designers
Each season of Project Runway begins with about 15 designers. Every week the designers have a different competition in which they try to make the best clothes. Competitions are usually restricted by time, theme, and materials. The designs are judged at the end of each competition, and one designer will be declared the winner while another designer is eliminated. The ultimate goal of the competition for the designers is to become one of three finalists who will create and show a fashion collection at New York Fashion Week. Designers also contend for other prizes, including cash and an opportunity to launch their own fashion line.
Shapely Competition: The Models
Models also play a role in Project Runway. On the first episode, the designers select a model that they will work with throughout the season. If a designer wins a competition, he or she is often given a choice to keep their current model, replace their model with the model of the losing designer from the previous week, or choose to take a model from another designer still in the competition. The model paired with the winning designer at the end of the season also wins prizes, such as a modeling contract and a spread in Elle magazine.
.com/entertainment/tv/project-runway-about.html