Central America Map
Click on a country for a more detailed map, or try our map index.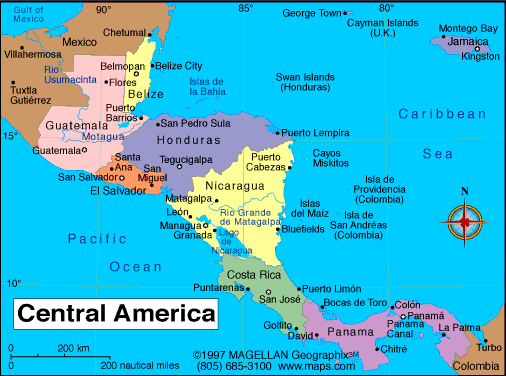 Country Maps: Central America
Note: Central America is geographically part of North America.
About Central America
Central America is a narrrow, southernmost region (c.202,200 sq mi/523,698 sq km) of the continent of North America, linked to South America at Colombia. It separates the Caribbean from the Pacific. Historically, geographers considered it to extend from the natural boundary of the Isthmus of Tehuantepec, S Mexico, to that of the Isthmus of Panama. Generally, it is considered to consist of the seven republics (1990 est. pop. 29,000,000) of Belize, Guatemala, Honduras, El Salvador, Nicaragua, Costa Rica, and Panama. The mountains of N Central America are an extension of the mountain system of W North America and are related to the islands of the West Indies. The middle portion of Central America is an active zone of volcanoes and earthquakes it contains the Nicaragua Depression, which includes the huge lakes Nicaragua and Managua. The ranges of S Central America are outliers of the Andes Mts. of South America. Tajumulco (13,846 ft/4,210 m high), a volcano in Guatemala, is the region's highest peak. Central America's climate varies with altitude from tropical to cool. The eastern side of the region receives heavy rainfall. Bananas, coffee, and cacao are the chief crops of Central America, and gold and silver are mined there. The economies of the countries in the region are becoming increasingly diversified. Though agriculture is still the largest employer, more technical positions are being produced as the industrial and service sectors develop. The Inter-American Highway traverses W Central America.