Cite
U.S. News: Gunman Kills Twenty Children in Connecticut
Updated February 28, 2017 |
Infoplease Staff
Major U.S. news stories, from the Presidential Election to the Chicago Teachers' Strike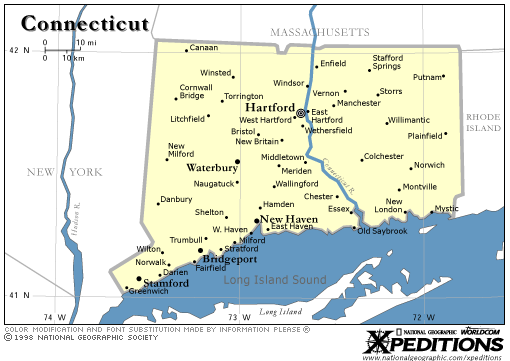 Newtown, Conn., is about 65 miles northeast of New York City
Related Links


Election 2012 | Campaign 2012 | Chicago Teachers' Strike | The U.S. Economy and the Fiscal Cliff | Petraeus Scandal | Gay Marriage | Supreme Court Reviews the Affordable Health Care Act | Occupy Wall Street Anniversary | The Population Shifts in the U.S. | Penn State Aftermath | Colorado Movie Theater Shootings | Trayvon Martin


Gunman Kills Twenty Children in Connecticut
by Jennie Wood
On December 14, 2012, Adam Lanza, age 20, forced his way into Sandy Hook Elementary School, in Newtown, Connecticut, and killed 26 people. The victims included 20 children between the ages of six and seven. Then Lanza took his own life while still inside the school.
Before going to the school, Lanza shot and killed his mother, Nancy Lanza, in the home they shared. His mother, a gun enthusiast, was killed by one of her own guns. Lanza then took four of her guns and drove in her car to nearby Sandy Hook Elementary School.
The shooting was the second deadliest in U.S. history. In 2007, 32 people were killed at the Virginia Polytechnic Institute. The Sandy Hook Elementary School shooting reignited the debate on gun control. On December 16, President Obama traveled to Newtown. In a speech at the memorial service he said that the nation had not done enough to protect children from attacks like this one. He said, "No single law, no set of laws can eliminate evil from the world or prevent every senseless act of violence in our society, but that can't be an excuse for inaction."
.com/news/year-in-review/2012/newtown-shootings.html
Trending
Here are the facts and trivia that people are buzzing about.