2011 World News: Pakistan
Updated February 28, 2017 |
Infoplease Staff

Relationship with U.S. Steadily Deteriorates
by Beth Rowen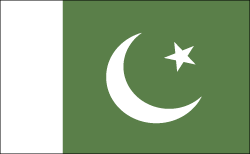 Related Links

Arab Spring Creates Tumult in the Middle East | European Nations Battered by Euro Debt Crisis | Osama bin Laden Killed in Pakistan | Advances in Iran's Nuclear Program Lead to Additional Sanctions | U.S. Withdraws Completely from Iraq | Hope for Peace Fades for Israelis and Palestinians | Earthquake in Japan Causes Wide Destruction and a Nuclear Disaster | Phone-Hacking Scandal a Major Embarrassment for Media Mogul Murdoch | Parliamentary Elections Spark Massive Anti-Kremlin Protests in Russia | World Population Reaches a New Milestone | Prince William and Kate Middleton Marry in a Lavish Royal Wedding | North Korean Leader Kim Jong-il Dies


Pakistan
The tenuous ties between the U.S. and Pakistan, a symbiotic relationship based on mistrust and suspicion, grew even more unstable in early 2011 and steadily deteriorated throughout the year. In January, CIA contractor Raymond Davis gunned down two Pakistan civilians who he said were trying to rob him on a crowded Lahore street. He was arrested and held in a Pakistani jail; the U.S. insisted he be granted immunity under the Vienna convention and released into U.S. custody. The incident created a diplomatic row that was resolved in March when the U.S. agreed to pay "blood money" to the victims' families in exchange for Davis's release. Pakistan requested that the CIA reduce the number of agents deployed to Pakistan and halt drone strikes targeting militants in the northwest region of the country.
Death of Bin Laden Further Strains Ties
On May 2, 2011, U.S. troops and CIA operatives shot and killed Osama bin Laden in Abbottabad, Pakistan, a city of 500,000 that houses both a military base and a military academy. The fact that bin Laden was hiding in Pakistan in a compound located in close proximity to a Pakistani military base further strained the relationship between the U.S. and Pakistan. Indeed, Pakistan had long denied that bin Laden was hiding within its borders, and the U.S. has provided Pakistan with about $1 billion each year to fight terrorism and to track down bin Laden. Inside Pakistan, officials and legislators questioned how the military did not detect several U.S. helicopters entering and leaving Abbottabad and wondered about its ability to protect the country and its nuclear arsenal.
In September 2011, members of the Haqqani network, a group allied with the Taliban, launched a brazen attack in Kabul, Afghanistan, firing on the U.S. embassy, the headquarters of the NATO-led International Security Assistance Force, and other diplomatic outposts. Nearly 30 people were killed, including 11 militants. The U.S. later accused Pakistan's spy agency, the Directorate for Inter-Services Intelligence (ISI), of helping the Haqqani network plan the attack. In fact, Adm. Mike Mullen, the chairman of the U.S. Joint Chiefs of Staff, said the Haqqani network "acts as a veritable arm of Pakistan's Inter-Services Intelligence Agency."
Ties between the U.S. and Pakistan hit a new low at the end of November after a NATO cross-border airstrike from Afghanistan on two positions in northwest Pakistan killed 25 Pakistani soldiers. Apologies from NATO and U.S. officials did little to quiet the outrage in Pakistan from civilians and government officials alike, both who expressed little patience for the continued U.S.-led war on terror being fought their country's border. The circumstances that led to the attack were in dispute, and NATO launched an investigation. Pakistan responded by demanding that the CIA halt its drone program at the Shamsi Air Base in western Afghanistan and shut down supply routes into Afghanistan.
.
.com/news/year-in-review/2011/pakistan.html