2009 Year in Review - Pakistan
Updated February 28, 2017 |
Infoplease Staff

Major World News Stories of 2009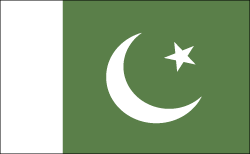 Related Links

Presidential Election Marred by Fraud in Afghanistan | President of Honduras Overthrown in Coup | Opposition Protests Presidential Election in Iran | U.S. Diminishes Its Role in Iraq | Peace Remains Elusive for Israelis and Palestinians
Pakistan
At the beginning of 2009, President Asif Ali Zardari appeared to have abandoned attempts to defeat the Taliban, which at that point controlled approximately 70% of the country. Pakistan, in fact, seemed to be on the brink of falling completely under the control of the militants whose territory was creeping beyond the restive tribal areas that border Afghanistan and into the heart of the country.
In February, the government agreed to implement a system of Islamic law in the Swat valley and negotiated a truce with the Taliban. This accommodation essentially provided the militant regime with a safe haven in Pakistan.
Zardari Takes Action Against Militants
As violence increased in Afghanistan, with militants pouring into the country from Pakistan, President Obama stepped up the pressure on Zardari to take military action against the Taliban and al-Qaeda. At the same time, Pakistanis had been expressing deep frustration over the Taliban's burgeoning authority throughout the country. The insurgency's growing strength was highlighted in April, when insurgents took control of Buner, a district only 70 miles outside the capital, Islamabad.
Zardari, perhaps wary of losing U.S. support—both financial and political—and sensing popular unrest at home, launched offensives against Taliban insurgents. The first occurred in May in the Swat Valley and involved at least 22,000 Pakistani troops.
The U.S. and Pakistan scored an important victory in August in South Waziristan with the assassination of Baitullah Mehsud, the leader of the Taliban in Pakistan. Mehsud, killed in a CIA drone strike, was blamed for the assassination of Benazir Bhutto, the terrorist attack on the Marriott Hotel in Islamabad, and dozens of other suicide bombings. Hakimullah Mehsud assumed the Taliban leadership role.
In late October, the military targeted the Taliban in the tribal area of South Waziristan. The incursion met strong resistance and forced tens of thousands of civilians to flee their homes. The Taliban retaliated with a series of terrorist attacks that targeted government buildings and crowded areas, killing hundreds of people and proving that the government was in for a protracted battle against a fierce and stubborn opponent.
.com/news/year-in-review/2009/pakistan.html