Cite
This Cup Runneth Over?
Updated February 28, 2017 |
Infoplease Staff
U.S. Ryder Cup team faces a tough European challenge
| | |
| --- | --- |
| by Gerry Brown & Mike Morrison | |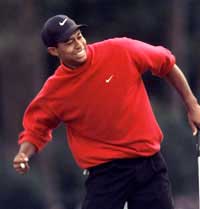 Related Links
The Ryder Cup hasn't exactly runneth over for the U.S. team over the last few years. The favored U.S. squads haven't held the Cup since 1993. They were upset in 1995 at Oak (Choke) Hill CC in Rochester, New York, and then in 1997 at Valderrama, Spain.
This time at The Country Club in Brookline, Massachusetts, the Yanks look to send those Concorde-traveling Euros back to the Continent a little lighter in the trophy case.
Here's a rundown of both teams to get you prepared.
| | | |
| --- | --- | --- |
| United States Team: | | European Team: |
United States Team
David Duval?Currently ranked second in the world, Duval is one of the big guns on the US side. He's won 11 times on the PGA Tour in the last two years. He can put up the tiniest of numbers when he's playing well as evidenced by his final-round 59 at the 1999 Bob Hope Classic. The only potential problem is that Duval has no previous Ryder Cup experience.
Jim Furyk? Furyk's game doesn't look right for a player of his abilities. His swing isn't pretty and he uses a cross-handed putting style. It's been said that his game looks weird. Weird like a fox. Furyk's unorthodox but effective play earned him a place on this team, and that's exactly what his teammates want to see. That and his dead-accurate putting.
Tom Lehman? Lehman is a big game performer. In fact, that's what made him one of Ben Crenshaw's two selections for captain's choice. He has a knack for playing well in big events like the Ryder Cup. His record is 3-2-2 in his two previous Ryder Cup appearances in 1995 and 1997. As one of the elder statesmen of the team, Lehman, 40, hopes to be a calming influence should things get hairy.
Justin Leonard? This is Leonard's chance to perform to his top Ryder Cup capability. He struggled at Valderrama in 1997, but his run at the 1999 British Open showed he can play at the highest level against the Europeans. He doesn't hit as long as some of the other players, however, and this could be an issue.
Davis Love III? This is one guy who has no problems with length off the tee. He's ranked fourth in the world but he hasn't played much lately because of a pinched nerve in his back. He has three Ryder Cups on his resume and, assuming he's healthy enough to be effective, this should be a bonus.
Jeff Maggert? Maggert barely earned a place on the team and has taken his share of lumps from his critics. On his side is his proven track record at match play. He won the 1999 Anderson Consulting World match play championship and holds a 4-3 record in his two previous Ryder Cup showings in 1995 and 1997.
Phil Mickelson? Maybe the best player never to have won a major, Mickelson will have a chance to strengthen his rep as a strong Ryder Cup player. He certainly can't be blamed for the past two losses with a 4-1-2 record in 1995 and 1997. He finished second at the U.S Open this year but he hasn't played much this year since his wife gave birth to their first child.
Mark O'Meara? O'Meara had a super 1998 but hasn't done much of anything this year. O'Meara is good buddies with Tiger; look for them to be paired up (and at this point, maybe Tiger can give the old man some pointers). O'Meara is the most experienced member of the team with appearances in 1985, 1987, 1991 and 1997.
Steve Pate? Pate was Crenshaw's other pick for captain's choice?and a surprising one at that. He's ranked 28th in the world and has never won a major. He is known as a fierce competitor. Although his lone Ryder Cup experience ended prematurely after he was injured in a car crash during the 1991 tournament, his fiery nature could be an asset.
Payne Stewart? Stewart is at the top of his game. The only potential pitfall is that he'll feel strange playing without his pants on. Stewart's trademark knickers won't make an appearance at The Country Club since all the players wear matching outfits at the Ryder Cup. He holds an 8-7-1 Ryder Cup record.
Hal Sutton? Sutton hasn't played at the Ryder Cup since 1987 but he's looked sharp as of late. He's been called the best iron player on the tour and will get a chance to prove it while playing with the best in the world this weekend.
Tiger Woods? Tiger is the top-ranked player in the world and won his second major at the 1999 PGA Championship. He was less than at his best at his only previous Ryder Cup (in 1997) when he got whipped by Costantino Rocca. Rocca's absent this year and Tiger has much to prove. Fear him.
European Team
Darren Clarke (N. Ireland)? The 31-year-old Clarke finished 2nd behind Ryder Cup teammate Colin Montgomerie on the European money list in 1998. He has six career victories under his belt and is playing in his second Ryder Cup. At 6-2 and weighing in at a hefty 16 stones, Clarke is genuinely regarded as a long hitter.
Andrew Coltart (Scotland)? Coltart did not make the team in the conventional manner, rather he was one of captain Mark James' selections. To the surprise of many. He has no Ryder Cup experience and has not played widely in the United States. He may not see much action.
Sergio Garcia (Spain)? If there's one member of the European team that even American fans can't wait to catch a glimpse of, it's Garcia. At just 19 he is far and away the youngest Ryder Cup participant, but what he lacks in years, he makes up in enthusiasm. He made up for a poor British Open by challenging Tiger Woods down the stretch at the PGA Championship, ultimately finishing second.
Padraig Harrington (Ireland)? Though he doesn't have the prettiest swing on the team, Harrington should be useful for his outstanding short game. At 28, he is beginning to reach his potential after a win at the PGA Irish Championship in his native Ireland. He also enjoys snooker.
Miguel Angel Jimenez (Spain)? He'll be playing in his first Ryder Cup at the age of 35, though he did serve as vice-captain of the 1997 Ryder Cup in his native Spain under Seve Ballasteros. He's rarely spectacular but usually consistent and could form a nice tandem with fellow countryman Garcia in doubles play.
Paul Lawrie (Scotland)? Lawrie grabbed the attention of golf fans around the world with his performance at the 1999 British Open. His come-from-behind win from ten strokes was still relatively overshadowed by the infamous collapse of Frenchman Jean Van de Velde. Nevertheless, Lawrie proved he can handle the pressure on a global scale and should play a significant role for the Europeans.
Colin Montgomerie (Scotland)? Montgomerie has been the best European golfer of the nineties, though his performances on U.S. soil have yet to back that up. He has won a record six consecutive European Order of Merits and has by far the most points on the European circuit this year as well. He is ranked No. 3 in the world and is participating in his fifth Ryder Cup. He must try to ignore any heckling he receives from the U.S. galleries and focus on his game, which is as good as anyone's.
Jose Maria Olazabal (Spain)? He is considered one of the best short-game players in the world, but also the worst driver on the team. With two Masters victories and five previous Ryder Cup showings, he knows what pressure is, but can't always control his emotions. After a disappointing first round at the 1999 U.S. open, he broke his hand after slamming his fist into a wall. He says it's healed.
Jesper Parnevik (Sweden)? Easily recognized by the upturned bill on his hat, Parnevik is well-liked on the tour for his loose, casual, even quirky attitude. He is the only member on the European team that is a regular, full-time PGA Tour player. He has twice finished runner-up in the British Open (1994 and 97) and has two PGA Tour victories.
Jarmo Sandelin (Sweden)? Unlike fellow Swede Parnevik, Sandelin is less of a fan favorite amongst American golfers due to his flamboyant, rebellious ways and for accusing Mark O'Meara of cheating at the 1998 Lancome Trophy. He really doesn't care. He is extremely self-confident, very aggressive and possesses an outstanding short game.
Jean Van de Velde (France)? Just a mention of his name still makes some golf fans cringe. Needing only a double bogey at the 1999 British Open in Carnoustie, Van de Velde came away with a triple and ultimately lost in a playoff to Lawrie. On the bright side, he was in contention for one of the four major world tournaments so he must have something going for him. To his credit, the Frenchman has handled his newfound attention well and hasn't let the disaster affect his game.
Lee Westwood (England)? Westwood is behind only Montgomerie in the 1999 European Order of Merit. After suffering a shoulder injury in the spring, he found his game and is currently the hottest player on the European Tour. He also knows what it's like to win on U.S. soil, having won the 1998 Freeport-McDermott Classic.
---
Trending
Here are the facts and trivia that people are buzzing about.