2013 World News: Pakistan
Updated February 28, 2017 |
Infoplease Staff

Pakistan elected a prime minister and president in 2013; Taliban leader killed in a drone strike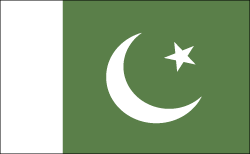 Related Links
The NSA, Edward Snowden, and Surveillance | Nelson Mandela Dies | Violent Protests in Egypt Lead to Ouster of Morsi and Crackdown on Muslim Brotherhood | New President of China Makes His Mark | Diplomacy Trumps Force Over Chemical Weapons in Syria | Iranian President Rouhani Engages West with a Charm Offensive | Negotiations Between Israelis and Palestinians Resume After Five-Years | Netanyahu Elected to Another Term in Israel | Nuclear Weapons Testing by North Korea Ratchets Up Tension with U.S., South Korea | Cardinal Jorge Mario Bergoglio Installed as Pope Francis I | Afghan President Karzai Refuses to Sign Security Agreement With U.S. | Concern Over Russia's Human Rights Record Clouds Upcoming Winter Olympics | Central African Republic Falls into a Civil War after Coup | Pakistan Elects a Prime Minister and President in 2013 | Ukrainian President's Rejection of Trade Deal with European Union Sparks Massive Protests | Islamic Militants to Expand Their Control Over Mali | Presidential Election Largely Peaceful in Kenya

Pakistan held parliamentary and presidential elections in 2013, and both marked important milestones in the coup-prone country. The largely peaceful transfer of power of both the prime minister and president signaled a move toward democracy in a country that continues to be mired in economic malaise and violence at the hands of the Taliban and other insurgents.

Former prime minister Nawaz Sharif of the Pakistan Muslim League dominated parliamentary elections in May 2013. Trailing were the Movement for Justice Party (PTI), led by cricket star Imran Khan, and the governing Pakistan People's Party (PPP). The historic election marked the first time in Pakistan's history that a civilian government served out its full five-year term and transferrred power after a democratic election. Khan, who appealed to younger voters, was expected to poll much better and claimed the election was marred by vote-rigging. Sharif formed alliances with smaller parties to establish a majority, and Parliament elected him prime minister in June. He served as prime minister from 1990 to 1993 and 1997 to 1999. A fiscal conservative who favors deregulation, Sharif campaigned on promises to boost the economy and curtail Pakistan's cooperation with the U.S. in its war on terrorists. Upon taking office, he called on the U.S. to halt its drone strikes into tribal areas on Pakistani soil. His request came days after a U.S. drone strike killed Wali-ur-Rehman, the Pakistan Taliban's second highest-ranking leader.

The national and provincial parliaments elected Mamnoon Hussain president in July 2013. Hussain, of the ruling Pakistan Muslim League, defeated Wajihuddin Ahmad, a former Supreme Court justice. The opposition Pakistan People's Party (PPP) boycotted the election, saying there was not enough time to campaign before the election. Hussain is a businessman with little political experience beyond briefly serving as governor of Sindh Province in 1999. Zardari is the first democratically elected president to finish his term and hand power to a successor. Since Zardari returned many of his powers to parliament in 2010, the role of president is largely ceremonial.
Taliban Leader Killed in a Drone Strike
The U.S. achieved an important victory over the Taliban with the November 2013 assassination of Hakimullah Mehsud, the leader of the Taliban in Pakistan. He died in a CIA drone strike in Danday Darpa Khel, a militant stronghold in North Waziristan. While the government expressed outrage that the U.S. overstepped its boundaries, many citizens indicated they were relieved about the death of a man whose group has destabilized and terrorized the country. The Pakistani Taliban is responsible for the death of thousands of Pakistanis mostly through suicide bombings and has been battling the country's army in the tribal belt. The drone program has come under fire in Pakistan and in the U.S., as opponents say the attacks have claimed far too many civilians. However, a report by Pakistan's defense ministry released days before Mehsud's death found that since 2008, the drone strikes had killed 2,160 militants and 67 civilians—far fewer civilians than expected. The government also said Mehsud's death may thwart plans to hold peace talks with the Taliban.
Days after Mehsud's death, the Taliban selected Mullah Fazlullah as their new leader. Fazlullah, known for his brutal tactics and as an ideologue, organized the attack on 14-year-old peace activist Malala Yousafzai. He said the Taliban would not enter into peace talks with the government.
Prime Minister Sharif named Lt. Gen. Raheel Sharif as head of the miliatry in November, just days before the retirement of Ashfaq Parvez Kayani. The new military chief, a career infantry soldier, is not related to the prime minister. In recent history, the army chief has been considered the most powerful figure in the country.
.com/news/year-in-review/2013/pakistan.html