2013 World News: Kenya
Updated February 28, 2017 |
Infoplease Staff

Presidential Election Largely Peaceful in Kenya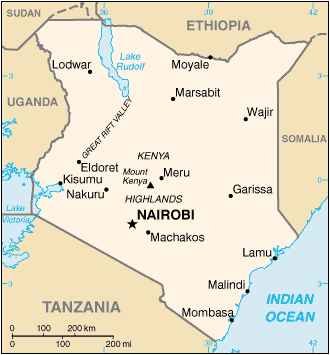 Related Links
The NSA, Edward Snowden, and Surveillance | Nelson Mandela Dies | Violent Protests in Egypt Lead to Ouster of Morsi and Crackdown on Muslim Brotherhood | New President of China Makes His Mark | Diplomacy Trumps Force Over Chemical Weapons in Syria | Iranian President Rouhani Engages West with a Charm Offensive | Negotiations Between Israelis and Palestinians Resume After Five-Years | Netanyahu Elected to Another Term in Israel | Nuclear Weapons Testing by North Korea Ratchets Up Tension with U.S., South Korea | Cardinal Jorge Mario Bergoglio Installed as Pope Francis I | Afghan President Karzai Refuses to Sign Security Agreement With U.S. | Concern Over Russia's Human Rights Record Clouds Upcoming Winter Olympics | Central African Republic Falls into a Civil War after Coup | Pakistan Elects a Prime Minister and President in 2013 | Ukrainian President's Rejection of Trade Deal with European Union Sparks Massive Protests | Islamic Militants to Expand Their Control Over Mali | Presidential Election Largely Peaceful in Kenya

As Kenya's 2013 presidential election approached, many feared a repeat of the deadly violence that plagued the disputed 2007 race and left about 1,300 dead. Those fears did not play out in the tight race between top contenders Prime Minister Odinga and Uhuru Kenyatta, the richest man in the country and the son of Kenya's first president. In the March election, Kenyatta won 50% of the vote to Odinga's 43.7%, enough to avoid a runoff. Kenyatta and his deputy president, William Ruto, were two of four men charged by the International Criminal Court in 2012 with crimes against humanity for their roles in the violence that erupted after the 2007 elections. Ruto pleaded not guilty to charges of crimes against humanity at the International Criminal Court in early September 2013.
Islamic militants terrorize upscale mall
Members of Al-Shabab, an Islamic militant group that is allied with al-Qaeda and based in Somalia, attacked an upscale mall in Nairobi beginning on Sept. 21, 2013, killing nearly 70 people and wounding about 175. The siege lasted for several days, with persistent fighting between government troops and militants. The attack was meticulously planned, and the militants proved to be challenging for the government to dislodge from the Westgate mall. Shabab said the attack was in retaliation for the Kenyan military's role in helping Somalia battle the militant group. In the wake of the violence, the ICC suspended the trial of Ruto so he could return to Kenya and assist in managing the crisis.
.com/news/year-in-review/2013/kenya.html