The World?s Most-Wanted Fugitives
Updated February 11, 2017 |
Infoplease Staff
The International Criminal Court has issued arrest warrants for these infamous figures
by Beth Rowen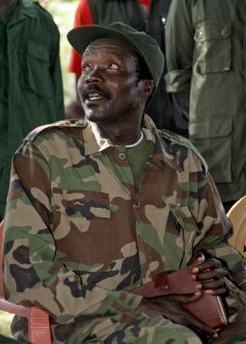 Joseph Kony, photo by Joram Jojo
Related Links
Many of the world?s most detested figures are accused of committing war crimes against their own people, against political opponents, and against innocent civilians who happen to live in an area of dispute.
In 1998 the UN General Assembly voted to authorize a treaty that established a permanent international court to try those accused of war crimes, genocide, crimes of aggression, and crimes against humanity. The International Criminal Court formally opened on July 1, 2002, at The Hague. The ICC can only prosecute crimes committed after its 2002 founding date.
The following suspects are at the top of the ICC?s most-wanted list for crimes against humanity.
Joseph Kony, Okot Odhiambo, Dominic Ongwen, Vincent Otti
Uganda
The government of Uganda has been at war for nearly 20 years with Kony?s Lord?s Resistance Army (LRA). About 10,000 children have been abducted by the LRA to form the army of ?prophet? Kony, whose aim is to take over Uganda and run it according to his vision of Christianity. The boys are turned into soldiers and the girls into sex slaves. Up to 1.5 million people in northern Uganda have been displaced because of the fighting and the fear that their children will be abducted. Kony and three other top LRA leaders, Okot Odhiambo, Dominic Ongwen, and Vincent Otti, have been indicted on charges of crimes against humanity by the ICC. In January 2015, Dominic Ongwen was surrendered to the ICC's custody and transferred to the ICC Detention Centre. The three remaining suspects are still at large.
Ahmad Harun, Omar al-Bashir, Abd Al Rahman/Ali Kushayb, Abdallah Banda Abakaer Nourain, Abdel Raheem Muhammad Hussein
Sudan
In Feb. 2007, the ICC named Ahmad Harun, Sudan's deputy minister for humanitarian affairs, and Ali Kushayb, also known as Ali Abd-al-Rahman, a janjaweed leader, as suspects in the murder, rape, and displacement of thousands of civilians in the country?s Darfur region. In May 2007, the ICC issued an arrest warrant for Harun, charging him with mass murder, rape, and other crimes. The Sudanese government has refused to hand him over to the Court. Sudan arrested Kushayb in October 2008. More than 200,000 people have been killed and 2.5 million have become refugees since the conflict in Darfur began in early 2004, in which the janjaweed?the pro-government Arabic militias?has been slaughtering black villagers and rebel groups with impunity. Omar al-Bashir is the current president of Sudan and, as of March 4, 2009, is the first sitting head of state to be indicted by the ICC. His warrant is for war crimes and crimes against humanity. Abdallah Banda is in ICC custody, while Harun, Kushayb, Al Bashir, and Hussein remain at large.
Bosco Ntaganda, Germain Katanga, Thomas Lubanga Dyilo, Sylvestre Mudacumura
Democratic Republic of Congo
Ntaganda, the head of military operations for a militia called the National Congress for the Defense of the People (CNDP), oversaw seven camps in which children were trained as fighters to participate in Congo's complex four-year civil war. The war involved seven foreign armies and numerous rebel groups that often fought among themselves. More than 2.5 million people are estimated to have died in the war, which raged from 1999 to 2003. Known as the ?Terminator,? Ntaganda also allegedly led the child soldiers in war. Bosco Ntaganda voluntarily surrendered in March 2013 and is in ICC custody. Germain Katanga, former leader of the Patriotic Resistance Force in Ituri, is charged with crimes against humanity and war crimes, specifically for a 2003 brutal attack on the village of Bogoro; he was found guilty as an accessory in March 2014 and he was sentenced to 12 years' imprisonment. Former rebel leader Thomas Lubanga Dyilo was convicted in March 2012 and sentenced to 14 years in prison. In March 2013, Bosco Ntaganda surrendered himself voluntarily and is now in the ICC?s custody, with trial expected in the summer of 2015. As of May 2015, Sylvestre Mudacumura remains at large.
Jean-Pierre Bemba Gombo
Central African Republic
The ICC issued an arrest warrant for Bemba in 2008 for four counts of war crimes and two counts of crimes against humanity, including murder, rape, and torture. Bemba was the leader of the Movement for the Liberation of the Congo. His trial began in Nov. 2010, with closing arguments in Nov. 2014. In Nov. 2013, warrants were issued for Jean-Pierre Bemba Gombo, Aime Kilolo Musamba, Jean-Jacques Mangenda Kabongo, Fidele Babala Wandu, and Narcisse Arido in connection with Gombo's case. All have been granted interim release until the trial begins.
William Samoei Ruto, Joshua Arap Sang, Uhuru Muigai Kenyatta, Walter Osapiri Barasa
Kenya
The trial of William Samoei Ruto and Joshua Arap Sang started in Sept. 2013. An arrest warrant for Walter Osapiri Barasa has been unsealed "for several offences against the administration of justice consisting in corruptly or attempting to corruptly influencing ICC witnesses."
Muammar Mohammed Abu Minyar Gaddafi, Saif Al-Islam Gaddafi
Libya
In June 2011, the ICC issued three arrest warrants for Muammar Mohammed Abu Minyar Gaddafi, Saif Al-Islam Gaddafi and Abdullah Al-Senussi for crimes against humanity (murder and persecution) allegedly committed across Libya in 2011 through the State apparatus and Security Forces. The case against Muammar Gaddafi ended in 2011 due to his death and the case against Abdullah Al-Senussi is inadmissible before the ICC. Saif Al-Islam Gaddafi is not in custody.
Laurent Gbagbo, Simone Gbagbo, Charles Bl Goud
Cte d'Ivoire
In Nov 2011, the ICC issued a warrant for Laurent Gbagbo for four counts of crimes against humanity. He was surrendered by Ivorian authorities and is in ICC custody. Charles Bl Goud is also charged with four counts of crimes against humanity and is in custody. The trial of Laurent Gbagbo and Charles Ble Goude is scheduled for Nov. 2015. Simone Gbagbo was the target of a warrant of arrest issued in Feb. 2012 for four counts of crimes against humanity allegedly committed in the territory of Cote d'Ivoire between Dec. 2010 and April 2011. Mrs. Gbagbo is not in the custody of the Court.
.com/world/statistics/most-wanted-fugitives.html