Cite
Winter Olympics: Figure Skating
Updated February 28, 2017 |
Infoplease Staff
Will the Russians sweep?
by John Gettings and Christine Frantz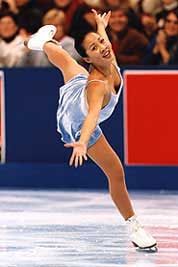 Related Links
Memorable Moments
Once a vital means of transportation throughout northern Europe, ice skating evolved into a sport during the 18th century.
The man credited with giving birth to the type of figure skating we see today is Jackson Haines, an American from New York.
In the early 1860s, Haines's new combination of music, ballet, ice skating, and dancing wasn't well received in this country. So he took his revolutionary ideas to Vienna, Austria, where they flourished.
Figure skating debuted at the 1908 Olympic Summer Games in London. The singles and pairs competitions have been a part of every Winter Games since 1924. The ice dancing competition was introduced in 1976.
The men's and women's singles competitions and the pairs competition each consist of two parts: a short program, in which skaters must complete required elements; and a free skate, which is a longer program that has few restrictions and emphasizes skaters' artistry.
The ice dancing competition has three parts: a compulsory dance, an original dance, and a free skate.
The men's singles will be held Feb. 14 and 16, while the women's singles will be held Feb. 21 and 23.
At the Torino Games the figure skating events will be held Feb. 11?23 at the newly constructed Palavela.
Figure skating was in the spotlight in the 2002 Olympics when it was discovered that vote-swapping had pushed the Russian pair into first place above the near-flawless Canadian performance. The French judge was sent packing and in an Olympic first, the gold was awarded to both the Canadians and the Russians. In response to the events at the 2002 Olympics, figure skating judging and scoring have been overhauled. The old six-point system is gone, replaced by one in which the performance is awarded points for a technical score as well as five other elements: skating skills, transitions, performance/execution, choreography, and interpretation. Also, no more booing of any particular judge?it's now anonymous, so the whole lot of them will have to get the raspberry.
The Russian men are favored for gold in Torino?2002's winner, Alexei Yagudin, might repeat or Evgeny Pleshenko could take home the medal.
2002's surprise women's winner, American Sarah Hughes is no longer competing. Both Sasha Cohen and Michelle Kwan had injuries in fall 2005 but are expected to be up to snuff for Olympic competition. 2005 world champ Irina Slutskaya is favored to become the first Russian woman to get the gold.
The top American ice dancers, Tanith Belbin and Ben Agosto, who placed second at the 2005 world championships, were expected to be ineligible to compete in Turin due to Belbin's Canadian citizenship. However, a provisionin a bill signed by President Bush on Dec. 30, 2005, allowed her to formally become an American citizen in time for the Olympics. The Russian 2005 world champion team of Tatiana Navka and Roman Kostomarov should be the duo to beat.
As usual, the Russians will probably have a strong showing in pairs with two-time world champions Tatiana Totmianina and Maxim Marinin leading the way.
.com/spot/winter-olympics-figure-skating.html
.com/sports/olympics/2010/winter-olympics-figure-skating.html
Trending
Here are the facts and trivia that people are buzzing about.