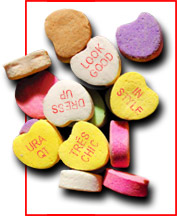 Valentine Gifts
What's your attitude towards Valentine's Day?
History
Pagan festivals, Christian saints, Chaucer's love birds, and the Greeting Card Association of America
Statistics from the U.S. Census Bureau
Ten new ways to convey those immortal words
Capone and Co.'s botched plan
Love
Legendary couples from Antony and Cleopatra to Abigail and John Adams
Love stories in literature, opera, and television
From Casablanca to Jerry Maguire
Shakespeare, Virgil, and Edna St. Vincent Millay
Words of love are only a click away
Movies that inspired offscreen romances
Fun Stuff
27 Down: ___ a Valentine's Day card to that "special someone."
11. Down: Sonny's partner in love and song
From bridesmaids to tossing the bouquet
A Roman martyr priest, circa 270
The Western holiday was originally known as the Roman feast of Lupercalia
Did you know?