Cite
Texas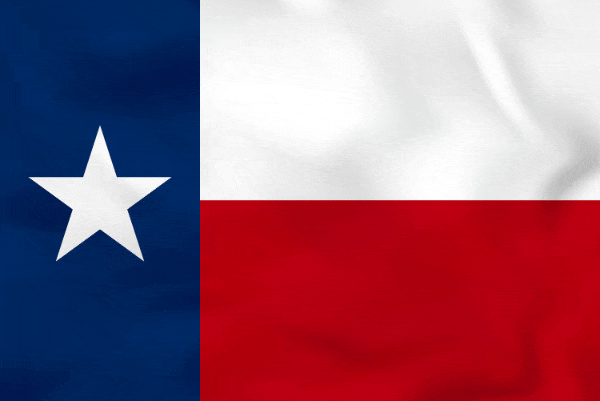 Texas State Facts
Entered Union: Dec. 29, 1845 (28th State)
Organized as republic: 1836
Present constitution adopted: 1876
Fun Facts
State abbreviation/Postal code: Tex./TX
Nickname: The Lone Star State
Origin of name: From the Caddoan word for "ally," used to refer to Spanish-allied Hasinai Confederacy and the area they lived in. 
Motto: "Friendship"
Slogan: "The Friendly State"
State symbols:
Bird: Northern mockingbird (1927)
Dog: Blue Lacy (2005)
Fish: Guadalupe bass (1989)
Flying mammal: Mexican free-tailed bat (1995)
Insect: Monarch butterfly (1995)
Large mammal: Texas Longhorn
Reptile: Texas horned lizard (1993)
Shell: Lightning whelk (1987)
Small mammal: Nine-banded armadillo (1927)
Fiber/fabric: Cotton
Flower: Bluebonnets (1901)
Fruit: Texas red grapefruit (1991)
Grass: Sideoats grama (1971)
Nut: Native pecan (1919)
Pepper: Chiltepin
Plant: Prickly pear cactus (1995)
Shrub: Crape myrtle
Tree: Pecan (1964)
Dinosaur: Sauroposeidon 
Gem: Texas blue topaz (1969)
Gemstone cut: Lone Star cut
Mineral: Bowenite (1966)
Molecule: Buckyball
Soil: Houston black
Stone: Petrified palmwood
Bread: Pan de campo (2005)
Colors: Red, white, and blue (in state flag)
Dish: Chili (1977)
Folk dance: Square dance (1991)
Instrument: Acoustic guitar
Music: Western swing
Plays: Fort Griffin Fandangle, The Lone Star, Texas, Beyond Sundown
Ship: USS Texas
Song: "Texas, Our Texas" (1929)
Snack: Chips and salsa (1995)
Sport: Rodeo (1997)
Government
Capital: Austin
State website: https://texas.gov/
Governor: Greg Abbott, R (to Jan. 2019)
Lieut. Governor: Dan Patrick, R (to Jan. 2019)
Secy. of State: Carlos Cascos (apptd. by gov.)
Comptroller: Glenn Hegar, R (to Jan. 2019)
Atty. General: Ken Paxton, R (to Jan. 2019)
U.S. Representatives: 36
Senators: John Cornyn, R (to Jan. 2021); Ted Cruz, R (to Jan. 2019)
See Also: Historical biographies of Texas Congress members
Population
Residents: Texan
Resident population: 27,695,284 (2nd Largest State, 2015)
10 largest cities (2010 est.): Houston, 2,099,451; San Antonio , 1,327,407; Dallas, 1,197,816; Austin, 790,390; Fort Worth , 741,206; El Paso, 649,121; Arlington, 365,438; Corpus Christi, 305,215; Plano, 259,841; Laredo, 36,091
Race/Ethnicity: White (71.0%); Black (11.5%); American Indian (0.6%); Asian (2.7%); Other race (11.7%); Two or more races (2.5%); Hispanic/Latino (32.0%).
Religion: Protestant (50%); Catholic (23%); No religion (18%); Jewish (1%); Jehovah's Witness (1%); Buddhist (1%) Muslim (1%); Mormon (1%). 
Sex: Male (49.6%); Female (50.4%).
Age: Under 18 (27.3%); 18-64 (62.4%); 65 and over (10.3%). Median Age: 33.6
See Also: Additional Texas Census Data
Economy
GDP: 1.7 trillion dollars (2nd in U.S., 2016)
Unemployment: 4.4% (2015)
Overview: Texas is one of the most developed economies in the country; only California has a larger GDP, and only New York and California have more Fortune 500 companies. Texas is the largest exporter of all states, and is a leading producer in all manner of agricultural products from cotton to cattle. Texas also has a large defense and tech industry, as well as aeronautics and filmmaking. The state of Texas alone would be the 10th largest economy in the world.  
Geography
Land area: 268,581 sq mi (696,241 km2)
Geographic center: In McCulloch Co., 15 mi. NE of Brady
Number of counties: 254
Largest county by population and area: Harris, 4,092,459 (2010); Brewster, 6,193 sq mi.
State forests: 5 (7,314 ac.)
State parks/recreation areas: 115 (600,000+ ac.)
Area codes
Tourism office
See more on Texas:
Encyclopedia: Texas
Encyclopedia: Geography
Encyclopedia: Economy
Encyclopedia: Government
Encyclopedia: History
Texas Temperature Extremes
Texas State History
Spanish explorers, including Álvar Núñez Cabeza de Vaca and Francisco Vásquez de Coronado, were the first to visit the region in the 16th and 17th centuries, settling at Ysleta near El Paso in 1682. In 1685, Robert Cavelier, Sieur de la Salle, established a short-lived French colony at Matagorda Bay.
Americans, led by Stephen F. Austin, began to settle along the Brazos River in 1821 when Texas was controlled by Mexico, recently independent from Spain. In 1836, following a brief war between the American settlers in Texas and the Mexican government, the Independent Republic of Texas was proclaimed with Sam Houston as president. This war was famous for the battles of the Alamo and San Jacinto. After Texas became a state in 1845, border disputes led to the Mexican War of 1846–1848.
Possessing enormous natural resources, Texas is a major agricultural state and an industrial giant. Second only to Alaska in land area, it leads all other states in such categories as oil, cattle, sheep, and cotton. Texas ranches and farms also produce poultry and eggs, dairy products, greenhouse and nursery products, wheat, hay, rice, sugar cane, and peanuts, and a variety of fruits and vegetables.
Sulfur, salt, helium, asphalt, graphite, bromine, natural gas, cement, and clays are among the state's valuable resources. Chemicals, oil refining, food processing, machinery, and transportation equipment are among the major Texas manufacturing industries.
Millions of tourists spend over $50 billion annually visiting more than 100 state parks, recreation areas, and points of interest such as the Gulf Coast resort area, the Lyndon B. Johnson Space Center in Houston, the Alamo in San Antonio, the state capital in Austin, and the Big Bend and Guadalupe Mountains National Park.
The 2011 drought gave Texas its hottest, driest 12 months on record. The drought brought up the same questions of water supply as the state's seven year drought back in the 1950s. With the state's population predicted to double by the year 2060, Texas began researching new water sources in 2011.
Famous Texas Natives and Residents