Cite
The Simpsons: History
Updated February 28, 2017 |
Infoplease Staff
A look at the family's jump from TV to the big screen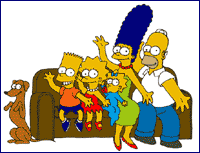 Related Links
The longest running sitcom and animated television show, The Simpsons has captured hearts young and old.
History of the Simpsons
Eighteen seasons have passed since The Simpsons became independent from their shorts on the Tracey Ullman Show in 1987. The family members' animated bodies have changed shape a bit since, but they have not aged much, aside from shows that looked into characters' futures. In fact, most people would agree that Matt Groening's goofy humor hasn't gotten old either.
Bart or Homer?who runs the show?
The series' writers have had to defend some of the show's crude humor. In the early stages, the show revolved around the young Bart Simpson's trouble-causing antics, making it appeal to a younger crowd. Over the years, however, the writers, which have included Conan O'Brien, found viewers responded more to the clumsy American father figure Homer Simpson, and he became the show's main character.
DVD's and more?beyond television
The shows are available on DVD. Creators have included many bonuses on the DVDs, from writers' commentaries to hidden features. The DVD covers have included each character's portraits. Marketing tie-ins include video games, to musical scores, and a major motion picture.
D'oh! makes it into the Oxford English Dictionary
Homer's common curse, "D'oh", has made its way into the Oxford English Dictionary, and other characters' catch phrases have caught on as well. Homer's boss Mr. Burns has a special way of saying "excellent", we all love Bart's "don't have a cow, man" or "cowabungah!", and the neighborhood bully Nelson's cruel "Ha ha."
The Characters
Hundreds of characters have been introduced, reintroduced, and even controversially killed off over time: recall the demise of Lisa's jazz inspiration Bleeding Gums Murphy and Homer's coworker Frank Grimes. Many characters have been voiced by celebrities, such as Kelsey Grammer as Krusty the Clown's assistant Sideshow Bob; Danny DeVito, as Homer's long lost brother Herb, and Dustin Hoffman as Lisa's teacher Mr. Norgstrom. Other celebrities have also voiced themselves in animated form, such as New England Patriots quarterback Tom Brady and former boyband N'Sync members. See a longer list of these appearances at Simpsons Celebrity Appearances.
Latest Simpsons Milestones?Movie Marketing
In 2007, the family finally made its way to theaters in the Simpsons Movie. 7-Eleven stores redesigned a dozen of their stores to look like Kwik-E-Marts, Springfield, U.S.A.'s favorite convenience store owned by father of octuplets Apu Nahasapeemapetilon. Products from the show were brought to life, such as "Sprinklicious" donuts, Buzz Cola, Squishee frozen drinks, and KrustyO's, which sold over 4 million units. Burger King "Simpsonized" real life people into Simpsons characters, featured Krusty burgers instead of Whoppers, and had Homer drooling on Whoppers in their commercials.
The creators of the movie ran a contest for which city would host the premiere, and Springfield, Vermont, won the Honor. Few details about Homer's well being leaked out before the premiere, but there was no doubt that Homer would do something really stupid. Fox gave away custom Simpsons yellow Microsoft Xbox 360's, and had Homer poke fun at some of the baseball all stars in animated form before the game this year.
Futurama
Matt Groening has said that as long as there is someone or something to make fun of, Simpsons episodes will continue to be written. As Groening's character Troy McClure (voiced by the late Phil Hartman) has claimed in reruns, Matt will continue creating new episodes until the show becomes unprofitable.
by Chris Warner
.com/entertainment/tv/simpsons.html
Trending
Here are the facts and trivia that people are buzzing about.