Cite
Most Popular Baby Names in the United Kingdom
The top ten boys' and girls' names from 2003-2007
by Liz Olson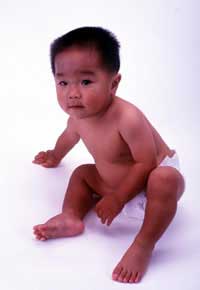 Related Links
According to UK National Statistics, Jack and Grace were the most popular baby names in England and Wales for 2007. Listed below are the top ten boys and girls names from 2003 to 2007.
Boys Names
Jack topped the chart as the most popular baby name for boys in England and Wales since 2004. The top five boys names in 2007 were similar to the 2006 standings—Thomas continued to be second, Oliver moved up a spot to third place, Joshua dropped to fourth, and Harry remained as the fifth most popular boys name.
Girls Names
In 2007, Grace came in as the most popular baby name for girls in England and Wales, moving up one spot from 2006. Olivia, which was the most popular girls name in 2006, moved down to third in 2007. Ruby was a new addition to the top five as second on the list, while Emily moved up one spot to fourth and Jessica fell to fifth.
Royal Names
Since Queen Elizabeth II was born in the early 20th century, the name Elizabeth has held a spot in the top 50, coming in at 36th in 2007. Charles, William, and Harry have also consistently appeared in the top 100 names—in 2007, Charles ranked 52, William 8th, and Harry 5th on the chart.
Top Ten Names for Baby Boys in England and Wales
| Rank | 2003 | 2004 | 2005 | 2006 | 2007 |
| --- | --- | --- | --- | --- | --- |
| 1 | Jack | Jack | Jack | Jack | Jack |
| 2 | Joshua | Joshua | Joshua | Thomas | Thomas |
| 3 | Thomas | Thomas | Thomas | Joshua | Oliver |
| 4 | James | James | James | Oliver | Joshua |
| 5 | Daniel | Daniel | Oliver | Harry | Harry |
| 6 | Oliver | Samuel | Daniel | James | Charlie |
| 7 | Benjamin | Oliver | Samuel | William | Daniel |
| 8 | Samuel | William | William | Samuel | William |
| 9 | William | Benjamin | Harry | Daniel | James |
| 10 | Joseph | Joseph | Joseph | Charlie | Alfie |
Top Ten Names for Baby Girls in England and Wales
| Rank | 2003 | 2004 | 2005 | 2006 | 2007 |
| --- | --- | --- | --- | --- | --- |
| 1 | Emily | Emily | Jessica | Olivia | Grace |
| 2 | Ellie | Ellie | Emily | Grace | Ruby |
| 3 | Chloe | Jessica | Sophie | Jessica | Olivia |
| 4 | Jessica | Sophie | Olivia | Ruby | Emily |
| 5 | Sophie | Chloe | Chloe | Emily | Jessica |
| 6 | Megan | Lucy | Ellie | Sophie | Sophie |
| 7 | Lucy | Olivia | Grace | Chloe | Chloe |
| 8 | Olivia | Charlotte | Lucy | Lucy | Lily |
| 9 | Charlotte | Katie | Charlotte | Lily | Ella |
| 10 | Hannah | Megan | Katie | Ellie | Amelia |
.com/uk/united-kingdom/statistics/top-ten-baby-names.html