Cite
Kentucky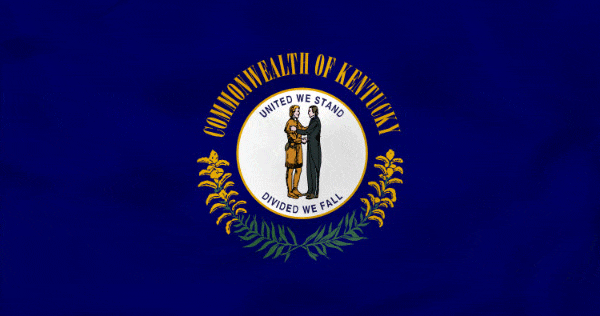 State abbreviation/Postal code: Ky./KY
Governor: Matt Bevin, R (to Dec. 2019)
Lieut. Governor: Jenean Hampton, R (to Dec. 2019)
Senators: Rand Paul, R (to Jan. 2023); Mitch McConnell, R (to Jan. 2021)
Historical biographies of Congressional members
Secy. of State: Alison Lundergan Grimes, D (to Dec. 2020)
Treasurer: Allison Ball, D (to Dec. 2020)
Atty. General: Andy Beshear, D (Since 2016)
Entered Union (rank): June 1, 1792 (15)
Present constitution adopted: 1891
Motto: United we stand, divided we fall
| | |
| --- | --- |
| tree | tulip poplar (1994) |
| flower | goldenrod |
| bird | Kentucky cardinal |
| song | "My Old Kentucky Home" |
Nickname: Bluegrass State
Origin of name: From an Iroquoian word "Ken-tah-ten" meaning "land of tomorrow"
10 largest cities (2014): Lexington-Fayette, 305,489; Fayette, 286,518 Louisville, 262,764; Bowling Green, 60,600; Owensboro, 58,083; Covington, 40,713; Hopkinsville, 32,966; Richmond, 32,112; Florence, 31,088; Georgetown, 30,271; Elizabethtown, 29,335
Land area: 39,728 sq mi. (102,896 sq km)
Geographic center: In Marion Co., 3 mi. NNW of Lebanon
Number of counties: 120
Largest county by population and area: Jefferson, 750,810 (2012); Pike, 787 sq mi.
State forests: 5 (35,809 ac.)
State parks: 52
Residents: Kentuckian
2015 resident population: 4,425,092
2010 resident census population (rank): 4,339,367 (26). Male: 2,134,952 (49.2%); Female: 2,204,415 (50.8%). White: 3,809,537 (87.8%); Black: 337,520 (7.8%); American Indian: 10,120 (0.2%); Asian: 48,930 (1.1%); Other race: 55,551 (1.2%); Two or more races: 75,208 (1.7%); Hispanic/Latino: 132,836 (3.1%). 2010 population 18 and over: 3,315,996; 65 and over: 578,227 (13.3%); median age: 38.1.
1. Consolidated with Jefferson County in 2003.
Kentucky was the first region west of the Allegheny Mountains to be settled by American pioneers. James Harrod established the first permanent settlement at Harrodsburg in 1774; the following year Daniel Boone, who had explored the area in 1767, blazed the Wilderness Trail through the Cumberland Gap and founded Boonesboro.
Politically, the Kentucky region was originally part of Virginia, but statehood was gained in 1792. Gen. Anthony Wayne's victory in 1794 at Fallen Timbers in Ohio marked the end of Native American resistance in the area and secured the Kentucky frontier.
As a slaveholding state with a considerable abolitionist population, Kentucky was caught in the middle during the Civil War, supplying both Union and Confederate forces with thousands of troops.
Kentucky prides itself on producing some of the nation's best tobacco, horses, and whiskey. Corn, soybeans, wheat, fruit, hogs, cattle, and dairy products are among the agricultural items produced.
Among the manufactured items produced in the state are motor vehicles, furniture, aluminum ware, brooms, apparel, lumber products, machinery, textiles, and iron and steel products. Kentucky also produces significant amounts of petroleum, natural gas, fluorspar, clay, and stone. However, coal accounts for 85% of the total mineral income.
Louisville is famous for the Kentucky Derby at Churchill Downs, and the Bluegrass country around Lexington is the home of some of the world's finest race horses. Other attractions are Mammoth Cave, the George S. Patton, Jr., Military Museum at Fort Knox, and Old Fort Harrod State Park.
In Aug. 2006, Comair Flight 5191 crashed shortly after takeoff from Blue Grass Airport in Lexington, killing 49 of the 50 people on board.
An early 2012 tornado season delivers deadly funnels which kill 24 in Kentucky.
See more on Kentucky:
Encyclopedia: Kentucky
Encyclopedia: Geography
Encyclopedia: Economy
Encyclopedia: Government
Encyclopedia: History
Monthly Temperature Extremes
All U.S. States: Geography & Climate
Printable Outline Maps
Record Highest Temperatures
Record Lowest Temperatures
Highest, Lowest, and Mean Elevations
Land and Water Area
All U.S. States: Population & Economy
Historical Population Statistics, 1790–Present
Per Capita Personal Income
Minimum Wage Rates
State Taxes
Federal Government Expenditure
Percent of People in Poverty
Births and Birth Rates
Homeownership
Percentage of Uninsured by State
All U.S. States: Society & Culture:
Most Livable States
Healthiest States
Most Dangerous States
Smartest States
Crime Index
Residency Requirements for Voting
Compulsory School Attendance Laws
Driving Laws
National Public Radio Stations
Selected famous natives and residents: