Women's Role in World War I
Updated February 28, 2017 |
Infoplease Staff

During the First World War, women rose to the occasion and filled many necessary roles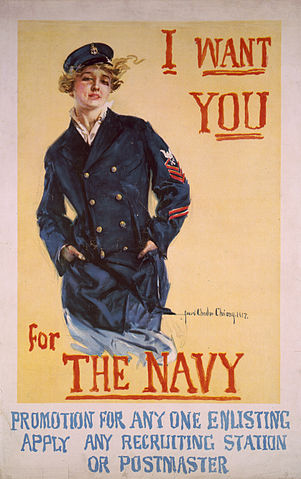 1917 World War 1 U.S. Navy poster
Related Links
Before the First World War, women had been a part of many war efforts in various roles, but, in order to serve alongside men, they had to cloak themselves in disguise. However, this began to change during World War I, the first war where the U.S. Navy and Marine Corps allowed women to enlist. More than 12,000 enlisted and about 400 died during the war.
Women in the U.S. also began working for the American Red Cross and United Service Organizations, as well as in factory, office, transportation, and other jobs vacated by men who were off at war. By the end of World War I, women in the U.S. made up 24% of aviation plant workers. In Great Britain, of 24 million women, 1.7 million stayed at work in domestic service during the war, while 800,000 worked in textiles, 600,000 in clothing, and 260,000 in government jobs or teaching.
Men's Work
Even though women were needed, trade unions in industries such as ship building and engineering strongly protested women doing "men's work." Once the war ended, women lost the jobs they were doing to cover for the men while the men were at war. However, because of the strong effort and participation by women during the First World War, Great Britain, the United States, Canada, and several European countries approved the right to vote for women in the years following World War I.
Although some armed services began to allow women to enlist, most women who saw or experienced any First World War combat did so through nursing. British women worked as nurses through Queen Alexandra's Royal Army Nursing Corps, First Aid Nursing Yeomanry and Voluntary Aid Detachment. All three had women working as nurses on the front lines by 1915. More than 2,800 Canadian women served in the Royal Canadian Army Medical Corps. Like the U.S., Canada allowed women in the military in roles other than nursing for the first time during World War I. Women in Canada received first aid, vehicle maintenance, and small arms training to serve as guards at home if needed.
Women's Battalions
The only country to deploy a substantial amount of female combat troops was Russia in 1917. Russia's Women's Battalions achieved success on the battlefield, but did not help increase war propaganda like the government had hoped. Therefore, Russia ended the Women's Battalions within a year.
The following are some of the women who played a significant role in World War I. Note the variety of ways they contributed. Also, even though women were accepted and needed for various jobs, a few women still chose to disguise themselves as men in order to participate in combat.
In 1914, Dorothy Lawrence disguised herself as a man to participate in World War I as an English soldier.
Flora Sandes, from England, joined an ambulance unit in Serbia in 1914 then went on to become a Serbian army officer.
British nurse Edith Cavell cared for injured soldiers from both sides while in German-occupied Belgium. She was executed in 1915 by the Germans for helping British soldiers escape.
Russian women Olga Krasilnikov and Natalie Tychmini disguised themselves as men to fight in the war in 1915. Both received the Cross of St. George.
In 1915, Madame Arno, a French artist, organized a group of women in Paris to fight the Germans.
Loretta Perfectus Walsh became the first woman to serve in the U.S. Armed Forces in an occupation other than nurse when she enlisted in the U.S. Navy on March 17, 1917.
On May 20, 1917, Army nurses Helen Wood and Edith Ayres became the first women in the U.S. Military to be killed in the line of duty. They were on the USS Mongolia, en route to France, when one of the guns exploded on deck.
Twins Genevieve and Lucille Baker became the first uniformed women to serve in the U.S. Coast Guard.
Opha Mae Johnson became the first female U.S. Marine when she enlisted in the Marine Corps Women's Reserve on August 13, 1918.
Serbian war hero Milunka SaviÄ became the most decorated female in the history of warfare for her contribution during World War I. Along with the Russian Cross of St. George, the English medal of the Most Distinguished Order of St. Michael, Serbian Miloš ObiliÄ medal, two French Legion of Honors, she is the only female recipient of the French Croix de Guerre (War Cross) with the gold palm attibute.
.com/us/military/world-war-i/women.html