Cite
Jeb Bush: Campaign Issues
Where he stands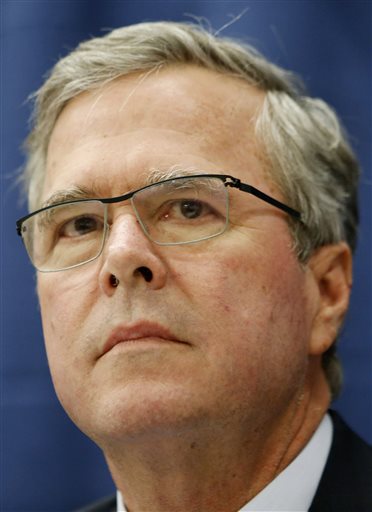 Jeb Bush, 2015
Source: Jim Cole for Associated Press
Related Links
Healthcare
Believes the Affordable Care Act is flawed and doesn't work
Wants to change Medicaid from "defined benefit" to defined contribution
Against physician-assisted suicide
Wants to provide risk-adjusted insurance vouchers
Said in Feb. 2015 that "you should vaccinate your children; over and out"
Budget/Deficit/Taxes
Has said that mortgage bankers created the recession and they should resolve it
Increased Florida's budget by 27% during his terms
Supports constitutional balanced budget amendment
Wants more bankruptcy reform and limitations, protect states' role in it.
Privatization was his general philosophy while governor
Believes social security benefits should come from private, faith-based companies.
Wants to remove Intangibles Tax on stocks, bonds, and dividends because it "helps seniors and savers"
Believes in letting states determine estate taxes
Immigration
Stated in Jan. 2015 that immigrants are "an engine of economic vitality"
An advocate for illegal immigrants residency
Supports reform that will make it easier to come to the U.S. legally
Believes education reform is more critical than immigration reform
Wants to split the cost of legal immigration between state and federal governments
Energy/Environment
Approved one billion for environmental land purchases while governor
Created new marine sanctuary to protect the Florida Keys
While governor, he prosecuted gas stations for price gouging during hurricanes
In July 2014, he said about global warming: "I'm a skeptic; I'm not a scientist"
Believes drilling in Gulf or Mexico hurts tourism in Florida
Approved $1.5 billion plan for restoring the Everglades
Wants to eliminate automobile emissions testing
Would set goal of 25% renewable energy by 2025
Foreign Policy
Supported strengthening the Cuban embargo, not lifting it
Believes the U.S. should be more aggressive with Russia and Ukraine
Is in favor of economic cooperation with China
Supports Israel in its battle against terrorism
Lived in Venezuela for two years, majored in Latin American studies
Believes the role in the world for the U.S. is to show military strength and moral clarity
Domestic Issues
In favor of restricting abortions only to cases of incest, rape, and health
Created "Choose Life" license plates for Florida
Has blocked use of public funds for stem cell research
Funded adoption counseling, not abortion counseling for Florida
Said in Jan. 2015 that he respects civil unions and same-sex lifetime commitments
Removed Confederate flag from Florida capitol in Feb. 2007
Did you know?
.com/us/government/presidential-campaign-2016-jeb-bush-issues.html
.com/us/government/presidential-campaign-2016-jeb-bush.html