Cite
Thanksgiving Movies
Our picks for the best holiday fare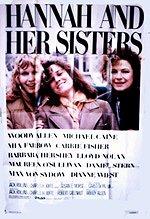 Hannah and Her Sisters (1986)
More Hollywood-like than previous Woody Allen outings, Hannah and Her Sisters is a cerebral comedy nonetheless, with three sisters (Mia Farrow, Babara Hershey, and Dianne Wiest) gathering each week to catch up and commiserate over their personal lives. Hannah (Farrow) is married to Elliot (Michael Caine), who lusts after Lee (Hershey), who lives with a brooding artist (Max Von Sydow). Dianne Wiest plays the third sister, a frustrated actress and artist, who's dating the ever-neurotic Woody Allen, Hannah's former husband. Angst-filled Thanksgiving dinners open and close the film, revealing a family nearly crippled by tension and jealousy. Oscars went to Wiest, Caine, and Allen for his screenplay.
The House of Yes (1997)
Skeletons in the closet can't begin to describe what lurks behind closed doors at the well-appointed Pascal mansion. A cozy Thanksgiving with the family brings out the darkest secrets when Marty Pascal (Josh Hamilton) brings home his fiancée, Lesly (Tori Spelling). Things have never been quite right since the Pascal patriarch left home on Nov. 22, 1963—the same day John F. Kennedy was assassinated. And Marty's sociopathic twin Jackie-O (Parker Posey), who's obsessed with the former first lady, could crack at any time and erupt into a violent outburst, which explains why her mother (Geneviève Bujold) has hidden the carving knives. Mrs. Pascal explains to Lesly that Jackie was holding her brother's penis when they were born, and never seemed to have kicked the habit. In an attempt to seduce Lesly, younger brother Anthony (Freddie Prinze, Jr.) lets the cat out of the bag about the incestuous relationship. This is billed as a screwball comedy—believe it or not, it works.
Home for the Holidays (1995)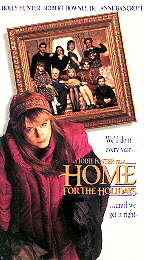 Things aren't going well for single mother Claudia (Holly Hunter): she just lost her job as a Chicago art restorer has to go home to her dysfunctional family for Thanksgiving, while her 15-year-old daughter (Claire Danes) stays home with hopes of losing her virginity. Claudia expects the worst from her visit, and her expectations aren't that far off. Her father (Charles Durning) is rapidly falling into senility; her chain-smoking mother (Ann Bancroft) is bitter; her aunt (Geraldine Chaplin) continues to make inappropriate, off-the-cuff remarks; and her yuppie sister (Cynthia Stevenson) and brother-in-law (David Strahairn) are as annoying as ever. Her gay brother (Robert Downey, Jr.) and his guest (Dylan McDermott) save the weekend from total disaster.
Did you know?