Cite
The Spirit of St. Louis
Updated February 28, 2017 |
Infoplease Staff
The plane that made Charles Lindbergh an instant hero
by Gerry Brown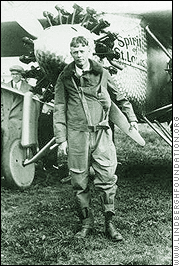 Spirit of St. Louis Specs
Length: 8.41 m (27 ft, 7 in.)
Wingspan: 14.02 m (46 ft)
Height: 2.99 m (9 ft, 10 in.)
Engine: Wright Whirlwind J-5C, 223 horsepower
Max weight: 2,330 kg (5,135 lbs)
Empty weight: 975 kg (2,150 lbs)
Manufacturer: Ryan Airlines Co., San Diego, Calif., 1927
Related Links
Charles A. Lindbergh, perhaps the most famous pilot since the Wright Brothers, made the first nonstop solo transatlantic flight in the silver Ryan strut-braced monoplane The Spirit of St. Louis. Early on May 20, 1927, Lindbergh began the 3,610-mile trip from Roosevelt Field, Long Island, to Le Bourget Field outside Paris, France, landing 33 hours later to a mob of 100,000 ecstatic Parisians. Lucky Lindy instantly became an international hero for the daring and lucrative flight.
Prize Money as Motivator
Part of the reason for his daring was the $25,000 prize first offered in 1919 by French-American and New York hotelier Raymond Orteig to the first aviator to fly non-stop across the Atlantic Ocean between New York and Paris. Others, usually in a multi-engine plane design, had either already attempted or were planning an attempt when Lindbergh, in his single-engine design, made his famous crossing.
But the plane had already made history on its maiden voyage. Following several test flights, Lindbergh flew the aircraft from San Diego to New York, stopping only in St. Louis. The flight time of 21 hours and 40 minutes broke the transcontinental record.
Custom Design
The plane itself was custom designed by Donald Hall under the direct supervision of Lindbergh but based on a standard Ryan M-2 aircraft. Due to the extended nature of the flight, the wingspan was lengthened by 10ft, and the fuselage was slightly enlarged and strengthened to bear the weight of a larger fuel load. The cockpit was moved toward the back of the plane a bit, and the Wright Whirlwind J-5C engine was moved forward. The fuel tanks were placed in front of the cockpit; in order to see forward Lindbergh used a periscope or turned the plane and looked out the side window.
The plane, which was officially named Ryan NYP The Spirit of St. Louis, was named in honor of Lindbergh's financial backers, several men from St. Louis who paid for the building of the airplane. The NYP stands for New York?Paris.
Museum Piece
The plane now can be seen at the Smithsonian's National Air and Space Museum in Washington, DC.
Trending
Here are the facts and trivia that people are buzzing about.