The Lewis & Clark Expedition
Updated February 28, 2017 |
Infoplease Staff
The expedition that uncovered the American West
The Lewis and Clark expedition, 1803–1806, was a U.S. expedition that explored the territory of the Louisiana Purchase and the country beyond as far as the Pacific Ocean.
Thomas Jefferson had long considered the project of a western expedition, and as president he contemplated the matter in earnest and discussed it with his private secretary, Capt. Meriwether Lewis. When Congress approved the plan in 1803 and appropriated money for it, Jefferson named Lewis to head it, and Lewis selected William Clark as his associate in command. The purpose was to search out a land route to the Pacific, to strengthen American claims to Oregon territory, and to gather information about the indigenous inhabitants and the country of the Far West. Before the long march was begun, the Louisiana Purchase was made, increasing the need for a survey of the West. More »
Try our Lewis and Clark's Expedition Quiz!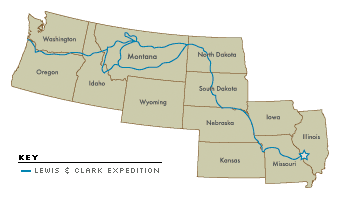 .com/spot/lewisandclark.html