2008 News of the Nation - Historic Presidential Election
Updated February 28, 2017 |
Infoplease Staff

News of the nation in 2008 from the financial crisis to the presidential election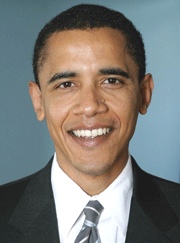 Related Links

Obama Assembles a Centrist Administration | Democrats Gain Seats in Congress |
Financial Crisis Hits Hard
Historic Presidential Election
The presidential election between senators Barack Obama and John McCain dominated the news in 2008—at least until the financial crisis struck and altered the landscape of the campaign. Given the issues of the day—economic turmoil, an unpopular war, an urgent need for alternate sources of energy—the election was widely considered the most pivotal since World War II and certainly the most historic.
On November 4, 2008, Obama was elected the 44th President of the United States. Obama, 47, a Democrat in his first term as a Senator from Illinois, will become the nation's first African-American president when he's inaugurated on January 20, 2009. He prevailed over McCain, 72, the four-term Republican Senator from Arizona, 365 electoral votes to McCain's 173.
Throughout the campaign, Obama ran on a platform of change and presented himself in stark contrast to President George W. Bush, promising that his policies would be a clear departure from those of the Bush administration. By taking advantage of the Internet and the power of text messaging on mobile phones, Obama ran an innovative campaign that appealed to young voters. Shunning public financing for his election, Obama raised an unprecedented amount of money—$750 million—much of it from small donors.
Experience a Major Issue in the Campaign
McCain focused much of his campaign on Obama's lack of experience, particularly in foreign policy. Obama answered that charge by selecting six-term Delaware senator Joe Biden, 66, as his running mate. Biden, a member of the Senate Foreign Relations Committee since 1975, has a reputation as a brainy expert in international relations.
McCain's criticism of Obama's inexperience was muted with his choice of Sarah Palin as the vice-presidential nominee. Palin's exuberant personality, appeal as a "hockey mom," and conservative values were initially met with enthusiasm by the Republican Party and by some Democrats who had backed Sen. Hillary Clinton in the primaries. But in a series of television interviews following her selection, Palin, the first-term governor of Alaska, often appeared ill-prepared and uninformed when answering standard policy questions. Her own inexperience on the national stage became a liability for McCain.
Financial Crisis Changes the Landscape of the Campaign
In September 2008, with the campaign in its final stretch, the financial crisis that had been building over the summer spread throughout the world. The economic malaise was in all but name a recession; it wasn't until December that the National Bureau of Economic Research announced that the U.S. had in fact been in recession since December 2007. The bad economic news further diminished Bush's popularity, and allowed Obama's message of change to resonate more powerfully with the electorate.
On election night, Obama garnered 52.8% of the popular vote, and won several states—such as Virginia and North Carolina—that had traditionally voted for the Republican candidate.
For more about the 2008 presidential campaign:
.com/us/history/news-nation-2008-election.html