Year in Review 2001 | Movies
Updated February 28, 2017 |
Infoplease Staff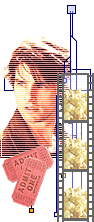 Before Harry
After Harry
Related Links
If it weren't for several stellar films that premiered late in the year, 2001 would have gone down as the year audiences shelled out a record amount of money for a record amount of truly dismal films.
Moviegoers opened their wallets to the tune of about $8 billion at the box office. An impressive number, yes, but even more striking when one considers the drivel that was trotted out weekly through late fall. Things changed mid-November with the release of Harry Potter and the Sorcerer's Stone, however. Looking back, 2001 can be divided into two periods: Before Harry (BH) and After Harry (AH).
BEFORE HARRY
BH was not nearly as satisfying as AH. Indeed, there were few weeks when more than one quality film opened. Shrek stands tall among the few standouts. It was an anti-fairy tale fairy tale that was probably more entertaining for parents than the kids, with its pointed barbs at Disney.
Memento, a stunning film noir starring Guy Pearce and directed by Christopher Nolan, about an amnesiac's struggle to find his wife's rapist, was shot in reverse chronological order and left audiences intrigued and beguiled.
Nicole Kidman generated significant buzz for her nuanced performances in the dazzling Moulin Rouge and in the subtle and masterful nail-biter The Others. There was some speculation that she'd be nominated for a Best Actress Oscar for both roles, thus diminishing her chances for a win.
Hedwig and the Angry Inch was anything but subtle. The flamboyant transsexual glam musical, which was based on John Cameron Mitchell's Off-Broadway hit, is destined for pop cultural status not seen since The Rocky Horror Picture Show.
Audiences were divided over Steven Spielberg's A.I. Artificial Intelligence, which he took over after the death of auteur Stanley Kubrick. Spielberg ventured into uncharacteristically dark territory, but did it brilliantly, exploring love, loneliness, and humanity.
Richard Linklater tackled similar themes in Waking Life, a simply plotted but truly innovative film. Linklater and a team of computer animators crafted a movie that ambles between high philosophical concepts and live-action cartoons. The film isn't concerned with high-tech imagery, the verbal fireworks set the film ablaze.
The only thing brilliant about the blockbuster of the summer, Pearl Harbor, was its marketing campaign. The folks at Disney promoted the film as a historical epic, when in fact it was a love story with the fateful attack serving merely as a subplot.
David Lynch returned to form with the utterly warped yet stunning Mulholland Drive. Naomi Watts deserves Oscar consideration for her portrayal of the perky, wide-eyed Betty whose dream to become a movie star turns into a nightmare.
In Ghost World Thora Birch reprised her role in American Beauty, playing another disaffected teen careening down a path toward social retreat. Director Terry Zwigoff perfectly captures the details and frustrations of daily life in this overlooked film.
AFTER HARRY
The Fellowship of the Ring opened with slightly less hype than Harry Potter did, but to far better reviews. Many expect the film to have more staying power at the box office than that other fantasy adaptation; the books, having been written 50 years ago, have a much broader?and older?fan base. Peter Jackson, the director of the three-picture $300 million mega-production, has already been hailed as a hero for his loyal adaptation.
Steven Soderbergh's Ocean's 11 was virtually guaranteed to turn into box-office gold. How could it not with Hollywood's hottest director at the helm and Brad Pitt, Julia Roberts, and George Clooney gushing with charm and fun throughout? The real stars of the film, however, are Carl Reiner and Elliot Gould who play the veteran thieves called in to advise the Young Turks.
Vanilla Sky also boasted a stellar lineup. The film, based on the Spanish thriller Open Your Eyes, reunited Jerry Maguire director Cameron Crowe and poster boy Tom Cruise. It also brought together Tinseltown's couple du jour, Cruise and Penelope Cruz. The film begins as a psychosexual thriller and spins into a sci-fi nightmare after Cruise's publishing executive is maimed in a car accident and accused of murder.
In The Majestic, Jim Carrey plays a blacklisted screenwriter who's also injured in a car crash. His life improves when he awakens with amnesia in a small town where the residents are convinced he's a war hero long assumed dead.
Lasse Hallstrm delves into small-town life in The Shipping News, adapted from E. Annie Proulx's Pulitzer Prize-winning novel. Kevin Spacey plays Quoyle, an unremarkable, down-on-his-luck newspaper reporter who moves with his young daughters to his family's ancestral home after the death of his wife.
Russell Crowe is on track for another Best Actor Oscar nomination?and perhaps his second consecutive win?for his deft portrayal of math genius John Forbes Nash Jr. in A Beautiful Mind. Nash won the Nobel Prize in Economics in 1994 for his work in the development of game theory and battled paranoid schizophrenia for nearly 25 years.
Will Smith is all but guaranteed an Oscar nomination for taking on the Champ in Ali, Michael Mann's much-anticipated epic biopic of Muhammad Ali. Smith gained 30 pounds and sculpted his body to perfection for the role. At least some of that weight seems to have gone to his head, however.
Sissy Spacek gives the performance of her career in Todd Field's In the Bedroom, a disturbing dramatic thriller, based on the short story "Killings" by Andre Dubus, about a Maine husband and wife whose lives unravel after the tragic death of their only son. Spacek and costar, Tom Wilkinson, won the Special Jury Prize for acting at the 2001 Sundance Film Festival.
Director Wes Anderson follows up his brutally funny Rushmore with The Royal Tenenbaums, an often hilarious saga about a dysfunctional family that reunites when the patriarch, Royal (Gene Hackman), who disappeared after he and his wife (Anjelica Huston) divorced, tells them he's dying of stomach cancer. Understated performances and penetrating dialogue pack an emotional wallop.
It's not all that surprising that AH far surpasses BH. Studios save the best for last and release their most prized possessions late in the year so the cream of the crop is fresh on the minds of Oscar voters. So much for the consumer, who for the rest of the year has to endure scores of films the likes of Freddy Got Fingered for every one true example of fine cinema.