TV Moms Juggle Career and Home
Updated February 28, 2017 |
Infoplease Staff
Today's TV Moms
June Cleaver, move over: modern TV moms juggle career, family, and a clean house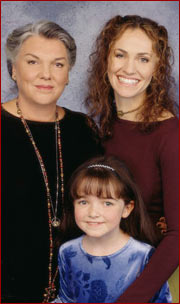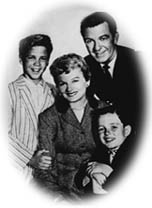 ---
The 1980s ushered in a wave of shows featuring women-headed single-parent households. In Kate and Allie, Susan St. James and Jane Curtin moved in together, with their children, after their divorces.
---
Related Links
Network TV has never been known for its accurate portrayal of, well, anything. But the medium has come a long way since the days of Ozzie and Harriet (1952-1966), a time when gender roles were unequivocally defined.
On television's longest-running sitcom, Harriet Nelson rarely left the kitchen, leaving Ozzie sole responsibility to guide his sons through dating problems, career choices, and marriage. The scenario was pretty much par for the course in the nascent years of television. Mom was rarely shown out of the kitchen, except of course to greet the kids after school with a tray of fresh-baked cookies. Barbara Billingsley's infinitely patient mom on Leave It to Beaver (1957-1963) also idealized this stereotypical mother.
The 50s and 60s: Housewives and Widowers
In the 1950s and 1960s, a job outside the home was rarely mentioned or considered. Naturally, Mary Tyler Moore's Laura Petrie gave up dancing to be a housewife and mother on The Dick Van Dyke Show (1961-1966). On I Love Lucy, Lucille Ball's title character, though distinctly untalented, dreamed of a show-business career, but husband Ricky never took her ambitions seriously. Lucy was one of television's first women to long for more than housewifery.
Indeed, most of the shows of the late 1950s and 1960s depicted men as the bread-winners and decision-makers of the nuclear family. Divorce was taboo. When there were non-traditional, single-parent TV homes, they were usually headed by widowers, and were not the result of failed marriages. But things began to change in the late 1960s. The Brady Bunch (1969-1974) produced television's most famous blended family. However, the union between Mike and Carol was seamless, with very few "step" issues. Bea Arthur's Maude was perhaps television's first truly liberated mother: a loud, opinionated divorcée whose divorced daughter lived at home with her and Husband No. 4.
Family Ties and Cosby: 80s Working Moms
Although the number of working mothers had been steadily on the rise since 1955, television programs didn't reflect the trend until the 1980s. Meredith Baxter was one of TV's first working mothers, playing a hip architect with three children on Family Ties (1982-1989). But it was The Cosby Show (1984-1992) that indelibly changed the image of women and the image of the traditional family on the small screen. Phylicia Rashad played Claire Huxtable, an attorney who shared child-rearing and decision-making duties with her obstetrician husband Heathcliff, played by Bill Cosby.
While Cosby made great strides in portraying dual-income upper-middle class families, Roseanne (1988-1997) was praised for its dead-on depiction of the struggling, working-class family. Wisecracking Roseanne left her job in a plastics factory to open her own greasy spoon. She and husband Dan, played by John Goodman, fought with gusto, worried about money, and reared far from perfect children.
Kate and Allie Usher in Single Mother Households
The 1980s also ushered in a wave of shows featuring women-headed single-parent households. In Kate and Allie (1984-1988), Susan St. James and Jane Curtin moved in together, with their children, after their divorces. And who can forget the Murphy Brown (1988-1998) uproar? When Candice Bergen's title character got pregnant and decided to raise the child on her own, then Vice President Dan Quayle lambasted Bergen and the show for derogating family values.
Brett Butler's Grace Under Fire appeared in 1993. Divorced from her "white trash" husband, Grace pulled herself off welfare and landed a job at an oil plant. The show was one of the first-and remains one of the only-to paint an accurate picture of the financial, physical, and emotional struggles of a single mother.
TV Mothers and Career Women Today
More recent shows, while not entirely successful in mirroring society as a whole, have captured a number of growing trends and attitudes. Judging Amy (1999-present) focuses on a recently divorced attorney (Amy Brenneman) who, with her young daughter, leaves New York City for a judgeship in her Connecticut hometown. She moves back in with her mother and struggles with her complex role as mother, daughter, and professional. The show does well in presenting the everyday stresses parents face, such as finding alternative care for a sick child, as well as the guilt of working outside the home.
Fox's Malcolm in the Middle (2000-present) has put a whole new face on television's portrayal of the overworked, under-appreciated mother. Jane Kaczmarek's Lois, a pharmacy clerk, presides over a household of four unruly, conniving, squabbling boys and a husband who, well, tries to bring some order into the middle-class home. The show, like Roseanne, has gone a long way in providing a hilarious, slice-of-life look at middle America so often ignored on the big and small screen. On the other end of the spectrum, Everybody Loves Raymond's (1996-present) Patricia Heaton frequently grapples with the ennui that can come with being a full-time mother.
Divorced Parents and Single Moms
In the critically acclaimed Once and Again (1999-present), Divorced parents Rick and Lily (Sela Ward and Bill Campbell) fall hard and fast for each other and confront the fallout from their ex-spouses and children. Although the show boasts beautiful people who live in beautiful homes, it accurately portrays the complications attendant in relationships between divorced parents.
Motherhood became a big part of The Practice this season. Two attorneys, Ellenor (Camryn Manheim) and Lindsay (Kelli Williams) gave birth both in real life and on the show. Both characters found their new roles as challenging as litigation. In fact, Ellenor's pregnancy became the source of a legal battle. Late in her pregnancy, Ellenor was shocked when the father of the child decided he wanted to participate in the upbringing of the child, despite a signed contract that prohibited just that. Lindsay give birth a month early, throwing her well-thought-out plans in disarray. Both women have struggled to balance career and motherhood.
Does TV Mirror Real Life?
These shows may be the exception—even in television's best attempts at reality, the houses are always neat as a pin, the families together for four-course meals, and the kids rarely shown tossing handfuls of corn across the room. That is, until Malcolm in the Middle hit the airwaves.
Sure, television has a veracity problem, although we watch it in part to forget the exasperating minutiae of daily life. What would escapism be if it were a mere videotape of our own lives?