Cite
Survivor II: The Australian Outback
Updated February 28, 2017 |
Infoplease Staff
The sophomore effort of reality TV's hit television show
This article was posted on January 25, 2001.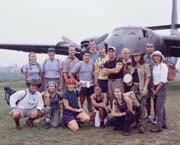 Related Links
Survivor II was the first hit on the small screen for the 2000-2001 television season.
The sophomore edition of 2000's summer runaway hit, this time set in Queensland, Australia, went head-to-head with NBC's formerly indomitable Friends.
NBC responded to the challenge by extending Friends to 40 minutes during the February sweeps. For the first two weeks of the month, the network filled in the remaining 20 minutes of the hour with special episodes of Saturday Night Live. After that, Will & Grace and Just Shoot Me also ran 40 minutes, thus three shows occupied two hours of programming.
Tough Competition for Must-See TV
In addition, CBS moved C.S.I., one of the few new dramas to have found an audience this season, to Thursday at 9 p.m., immediately following Survivor. For the first time in more than 15 years, NBC's Must-See Thursday faced stiff competition.
A first glance at the 16 Survivors of Survivor II revealed a generally young, buff group of attractive contestants. There were a few obvious parallels between some of this season's contestants and those from the last.
Click here to read more about the Survivor II contestants.
About Queensland
Queensland is located in northeastern Australia.
Much like the deserted island in the South China Sea, where Survivor I was filmed, the outback of Queensland, Australia's second-largest state, features a combination of breathtaking beauty and rugged, often dangerous terrain. The weather ranges from extremely hot during the day to downright chilly at night.
The contestants were surrounded by a wide variety of creatures. There are more than 70 species of marsupials, 600 bird species, 79 species of snakes (some of them are deadly), 161 types of lizards, and nearly 50 different kinds of bats.
Trending
Here are the facts and trivia that people are buzzing about.