Goblet of Fire Released
Updated February 28, 2017 |
Infoplease Staff
Movie Released
by Chris Frantz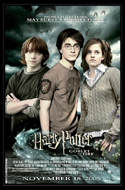 Related Links
* Visit our Harry Potter Page for more news! *
The Hogwarts gang apparated into theaters around the world on Friday, Nov. 18, 2005 in Harry Potter and the Goblet of Fire.
The film already had its world premiere in London on Nov. 6 and New York premiere Nov. 12. Both debuts were attended by the stars Daniel Radcliffe, Rupert Grint, and Emma Watson. The Chinese debut in Shanghai on Nov. 17 included California governor Arnold Schwarzenegger. Reviews have been very enthusiastic for this fourth and darkest installment of the series, the first to carry a PG-13 rating.
The movie is opening in 3,858 theaters in the U.S., more than any other Harry Potter movie. While most of the world will see the film sometime in the next month, the poor Republic of Macedonia has the longest wait—until April 28, 2006.
Even though the movie is 2 hours and 36 minutes long, a lot of the 734-page book had to be scrapped. Don't look for Hermione's S.P.E.W. (Society for the Promotion of Elvish Welfare) and the Quidditch World Cup is decided very quickly. But don't worry, Harry's crush on Cho Chang and Hermione's date with Viktor Krum are still there. The heart of the movie, though, is the thrilling and dangerous Triwizard Tournament and Voldemort, sorry—"he who must not be named"—is finally shown in person.
The next movie, Harry Potter and the Order of the Phoenix, has a scheduled opening in summer 2007.
.com/spot/harrygobletmovie.html