Cite
Halloween
Updated October 14, 2020 |
Infoplease Staff
Monsters, and bats, and Dracula. Oh my!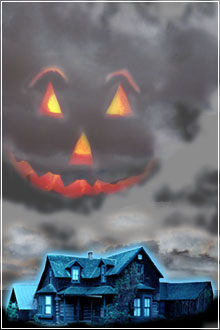 Monster Guide
Halloween Polls
Halloween Hangman
Do you dare play this ghoulish game?
Halloween Traditions
The inside scoop on jack-o'-lanterns and other Halloween traditions
Halloween History
The tangled origins of the October 31 holiday
Halloween by the Numbers
There were 115 million candy opportunities in 2013
Menacing Monster Guide
Who's who in the rogue's gallery
The Truth About Dracula
How a 15th-century prince became a legend
Fact Monster Mask
Be the Fact Monster for Halloween!
All About Bats
Mysterious mammals on the fly
Conversations with a Witch
We talk to a real-life witch about stereotypes in the media
More on the Freaky, Scary, and Strange
Our Favorite Phobias
What are you afraid of?
The Hoax Files
Mysteries of science, sports, art, and more
Unlucky No. 13
The superstition's roots in Christian and pagan beliefs
Sports and the Number 13
A handful of athletes dared wear the infamous number
Quizzes and Games
The Human Skeleton Quiz
Test your skeletal smarts
Mythical Monsters Quiz
What half-man, half-bull beast was kept in a labyrinth on Crete?
Phobias Quiz
Phobophobics avoid this quiz!
Candy Quiz
What flavor was found in Tut's tomb?
Monsters Quiz
Which are the only monsters born in the United States?
Dracula Quiz
Don't be afraid to sink your teeth into this quiz
Top Halloween Flicks
The Scariest Movies of All-Time
How scary is The Shining?
Hip Halloween Flicks
Rosemary's Baby, The Witches of Eastwick, and more
.com/spot/halloween.html
.com/spot/halloweenkids.html
Trending
Here are the facts and trivia that people are buzzing about.