Ten Movies to Watch with Mom
Updated February 11, 2017 |
Infoplease Staff
Here are some movies to watch with mom on Mother's Day.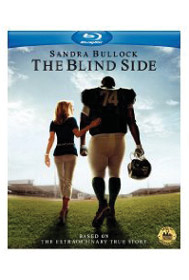 Sandra Bullock won an Oscar for her role in The Blind Side
Related Links
Looking for something to do with mom on Mother's Day? How about spending some time relaxing with a couple movies? Here's a list of some films featuring unforgettable mothers.
Terms of Endearment
Considered the ultimate mother daughter film, Terms of Endearment spans 30 years in the relationship of Aurora Greenway, played by Shirley MacLaine, and her daughter Emma, played by Debra Winger. Rounding out the stellar cast are Jack Nicholson, Danny DeVito, Jeff Daniels, and John Lithgow. Based on the novel of the same name by Larry McMurtry, it is written, produced and directed by James L. Brooks. Nominated for 11 Academy Awards, the film won five, including Best Picture, Best Director, Best Adapted Screenplay, Best Actress (MacLaine), and Best Support Actor (Nicolson).
The Blind Side
Sandra Bullock won a Best Actress Oscar for playing the mother in The Blind Side who takes in a homeless boy, helping him become an All American football player. The movie is semi-biographical, based on the book The Blind Side: Evolution of a Game by Michael Lewis, which is based on the life of Michael Oher. The film was a success at the box office, making over $300 million, as well as with critics. Bullock was especially praised by critics and fans. Tim McGraw, Kathy Bates, and Quinton Aaron also star in the film.
Steel Magnolias
The all-star cast led by Sally Field, Dolly Parton, Olympia Dukakis, Daryl Hannah, and Shirley MacLaine make this film adaption of Robert Harling's 1987 play shine. The movie also helps launch the career of mega-star Julia Roberts, who would appear in the blockbuster Pretty Woman the following year. In fact, Roberts receives her first Oscar nomination for Steel Magnolias. Her character's intense relationship with her mother, played by Field, is another reason this film struck a chord with female audiences. Look for playwright, actor Sam Shepard in a small role as Truvy's (Parton) husband.
Grey Gardens
This documentary about the aunt and cousin of Jacqueline Kennedy Onassis inspired a Tony award-winning musical and television movie of the same name. In the documentary, brothers Albert and David Maysles visit Edith Bouvier Beale and her daughter Edie in their dilapidated mansion, Grey Gardens, in East Hampton. The quirky mother and daughter share their home with cats and raccoons. When the documentary is shot, Edith is almost 80 and the film suggests that Edie came home 24 years prior to have her mother look after her, rather than vice versa. The TV movie, starring Jessica Lange and Drew Barrymore, aired in 2009, and is also available on DVD.
Postcards from the Edge
Directed by Mike Nichols, this comedy-drama is based on Carrie Fisher's semi-autobiographical novel of the same name. The film, like the novel, centers on film actress Suzanne Vale's attempt to get her life back together after a drug overdose. The only way she can return to work is to live with a responsible adult so she moves in with her mother Doris Mann, played by Shirley MacLaine. Mann is a former musical comedy star and Vale, played by Meryl Streep, is still trying to escape Mann's shadow. The mother daughter combo of Shirley MacLaine and Meryl Streep makes this film a must see.
The Kids Are All Right
A breakout hit at 2010's Sundance Film Festival, The Kids Are All Right also received four Academy Award nominations, including Best Picture. Nic, played by Annette Bening, and Jules, played by Julianne Moore, are a married lesbian couple living with their two kids in California. Each one gave birth to one of their kids using the same sperm donor. Chaos ensues when their son wants to meet the sperm donor. Lisa Cholodenko directed this critically-acclaimed independent comedy-drama, which also stars Mark Ruffalo, Josh Hutcherson, and Mia Wasikowska.
Anywhere But Here
Based a novel of the same name by Mona Simpson, Anywhere But Here stars Susan Sarandon and Natalie Portman as mother and daughter. Sarandon plays Adele August, a woman who leaves Wisconsin for Beverly Hills to follow her dreams. She drags her reluctant daughter Ann with her. While Adele struggles to figure out just what her dreams are, she pushes Ann to become an actress. However, the more pragmatic Ann would rather attend Brown University. Anywhere But Here received positive reviews from critics and has a soundtrack featuring such well-known artists as Sarah McLachlan, Carly Simon, and Patty Griffin.
Imitation of Life
This 1934 film starring Claudette Colbert, Warren William, and Rochelle Hudson is based on Frannie Hurst's novel of the same name. The movie deals head on with race while exploring the lives of two mothers. Colbert plays a white widow and mother who takes in an African American housekeeper Delilah Johnson and her daughter. The four become a family and struggle together against the prejudices of the people around them. The film is on Time magazine's list of "The 25 Most Important Films on Race." There is also a 1959 remake starring Lana Turner.
Tumbleweeds
This film created Oscar buzz for Janet McTeer who plays Mary Jo Walker, a single mother who always moves herself and her daughter at the first sign of trouble, specifically relationship trouble. The movie focuses on the strain that Mary Jo's behavior puts on the relationship with her daughter. This comedy-drama is directed by Gavin O'Connor. O'Connor also co-wrote the screenplay with his then wife Angela Shelton. The script is inspired by Shelton's childhood which she spent constantly moving due to her mother's serial relationships.
Mommie Dearest
No matriarchal movie list would be complete without this mother of all films. Based on the 1978 autobiography of the same name by Joan Crawford's daughter, Christina Crawford, Mommie Dearest has become a cult classic. Faye Dunaway plays Joan Crawford and Diana Scarwid plays Christina. Critical reviews at the time of the film's release were mixed. Roger Ebert famously started his review of the film with "I can't imagine who would want to subject themselves to this movie." Critics were also split on Dunaway's performance. Some disliked her scenery chewing, while others could not get over her likeness to Crawford. Love it or hate it, you will never look at wire hangers the same way again.
.com/entertainment/movies/mothers-day-top-ten.html