Cite
Summer Blockbusters 2011
Updated February 28, 2017 |
Infoplease Staff
Get ready for the onslaught of summer movies with this guide. Look for the box of popcorn icon next to movies that are kid friendly.
By Jennie Wood
Related Links
May
Short on time, but don't want to miss the best blockbusters? Check out our list of the top ten must see summer 2011 movies.
May
Thor
(May 6, 2011) Thor, a mythic Norse hammer-wielding god, was the subject of various poems and paintings dating back to the 1700s before becoming a fictional superhero in publications published by Marvel Comics. Chris Hemsworth plays the cocky god who's banished to Earth for his arrogance. Hemsworth, an Aussie actor, made an impression in the moving prologue of the 2009 Star Trek reboot as the father of James T. Kirk. Thor has some Oscar metal behind it, with recent winner Natalie Portman co-starring as the astrophysicist who helps change Thor's opinion about humans. Also, Kenneth Branagh, Oscar nominated for the 1989 film adaptation of Shakespeare's Henry V directs. Rated: PG-13
Pirates of the Caribbean: On Stranger Tides
(May 20, 2011) Oscar winner Penlope Cruz joins the crew for this fourth Pirates voyage. Rob Marshall, who won an Oscar for Chicago, takes over the directing duties from Gore Verbinski, who opted to leave the franchise after directing the first three films. Johnny Depp is back as Captain Jack Sparrow and Keith Richards reprises the role of Jack's father. Rated: PG-13
Kung Fu Panda 2
(May 26, 2011) In this sequel to the animated 2008 blockbuster, a peacock named Lord Shen invents a weapon to conquer China and wipe out kung fu. The movie will also explore how Kung Fu Panda came to have a goose for a father. Jack Black is back as the voice of Po and Gary Oldman is the voice of Lord Shen. Rated: PG
The Hangover Part II
(May 26, 2011) This Hangover takes place in Bangkok where schoolteacher Phil, played by Bradley Cooper, dentist Stu, played by Ed Helms, and eccentric Alan, played by Zach Galifianakis, reunite for Stu's wedding. This time the morning after escapade revolves around the search for the missing brother of Stu's fiance. Rated: R
X-Men First Class
(June 3, 2011) With this action adventure flick, we travel back in time to the 1960s, when the original comic series was created. The plot focuses on the friendship of a young Professor Xavier, played by James McAvoy, and Magento, played by Michael Fassbender, during the Cuban Missile Crisis. We will see how these onetime allies became leaders of warring factions. Recent Oscar nominee Jennifer Lawrence stars as the shape-shifter Mystique. Rated: PG-13
Super 8
(June 10, 2011) This is the latest from J.J. Abrams, the mastermind behind Lost and the successful Star Trek reboot. Super 8 is an ode to the films he made as a kid using a Super-8 camera. The story follows a group of geeky teenagers who witness a derailed train while making a zombie movie. The train is carrying cargo from Nevada's Area 51 and a (possibly extraterrestrial) creature breaks free. Rated: PG-13
Green Lantern
(June 17, 2011) Since 1940, several versions of Green Lantern's saga have appeared in books published by DC Comics. In this film, Ryan Reynolds stars as Hal Jordan, a test pilot, who's chosen to work for an intergalactic police force and wear the all powerful ring. Rated: PG-13
Cars 2
(June 24, 2011) Mater, our favorite tow truck, visits some foreign, hard-to-drive cities such as Tokyo and London where he cheers on his race-car buddy Lightning McQueen. While doing so, Mater gets mistaken for an American spy. Owen Wilson, Larry the Cable Guy, Michael Caine, and Emily Mortimer are the voices of the lovable vehicles. Rated: G
Top
Transformers: Dark of the Moon
(July 1, 2011) The third installment of this Hasbro-toy-inspired franchise has Shockwave, a cyclopean villain, leading an assault on Chicago. Trapped in the city is Sam Witwicky's new girlfriend Carly, played by model Rosie Huntington-Whiteley. Shai LaBeouf is back as Sam and Josh Duhamel returns as Maj. William Lennox. Listen for the voice of Leonard Nimoy as robot Sentinel Prime, Optimus Prime's long-lost predecessor, who turns up in wreckage found on the moon. Rated: PG-13
Larry Crowne
(July 1, 2011) Tom Hanks plays a big-box retailer who gets laid off because he doesn't have a college degree. He enrolls in a junior college and meets a cranky, pessimistic professor played by Julia Roberts. Hanks directed the film and co-wrote the script with My Big Fat Greek Wedding's Nia Vardalos. Right after high school, Hanks attended Chabot College in Hayward, Calif. where his classmates were housewives, retirees, and Vietnam vets. He based the script on his experience. Rated: PG-13
Harry Potter and the Deathly Hallows Part 2
(July 15, 2011) This final installment of the Harry Potter phenomenon is the most anticipated film in a season full of huge releases. Filmed simultaneously with part one over 261 days, this swan song aims to do right by the final chapters of the best selling young adult series of all time. There are a few tweaks to J. K. Rowling's climax. The final confrontation between Harry and Voldemort is expanded from the wand duel in the novel to a cinematic, high-drama chase through Hogwarts involving physical fighting and teleporting. A new structure has also been added to Hogwarts; look for a glass boathouse, which will be the setting for an important scene that, in the book, takes place at the Shrieking Shack.Rated: PG-13
Winnie the Pooh
(July 15, 2011) Reimagining a classic can spell onscreen disaster, but co-directors Stephen J. Anderson and Don Hall promise to stay true to Pooh and the gang. "We don't really want these characters to change," says Hall. The movie follows Pooh and his friends on one full day as they go off on various adventures including the search for a new tail for Eeyore. Rated: G
Captain America: The First Avenger
(July 22, 2011) Captain America has been appearing in comic books published by Marvel Comics since 1941. He's even older than Marvel Comics, having first been published by Marvel's predecessor, Timely Comics. Fantastic Four's Chris Evans will play everyman Steve Rogers who goes from a bullied 98-pound runt to the world's strongest soldier after getting a super injection. This film version is set in World War II where Captain American must fight Hitler's weapons specialist Red Skull, played by The Matrix's Hugo Weaving. Rated: PG-13
Cowboys & Aliens
(July 29, 2011) Director Jon Favreau passed on making the third Iron Man movie to direct this sci-fi Western starring Harrison Ford, Daniel Craig, and Olivia Wilde. Set in Arizona, circa 1875, Craig plays Jake Lonergan, a gunslinger who wakes up in the desert with no memory and a shackle around his wrist. Ford plays Col. Woodrow Dolarhyde, an enemy of Lonergan's that he can't remember. Wilde plays Ella, a beautiful gold digger. The three must join forces when aliens start abducting the townspeople. The list of producers is just as impressive as the fillm's cast and concept: Steven Spielberg, Ron Howard, and Brian Grazer, among others. Rated: PG-13
The Smurfs
(July 29, 2011) The Smurfs last appeared on the big screen in 1983's animated The Smurfs and the Magic Flute. This time they appear in a mix of CG (computer graphics) and live action, sharing the screen with Neil Patrick Harris, Jayma Mays and Hank Azaria. The story starts in the Middle Ages, but six Smurfs are chased into a magical portal that leads them to present day New York City. The six Smurfs that get to time travel are Papa, Smurfette, Brainy, Gutsy, Clumsy and Grouchy. Rated: PG
Top
Rise of the Planet of the Apes
(August 5, 2011) Everywhere man James Franco turns up in this prequel as Will Rodman, a scientist partly to blame for the end of humanity. When Rodman's genetically enhanced subject, Caesar, grows tired of the way he's being treated, he starts a revolution. Caesar leads all the apes as they overthrow their human oppressors. Andy Serkis is Caesar, using the same motion-capture technique in this film that he used as Peter Jackson's King Kong. Rated: PG-13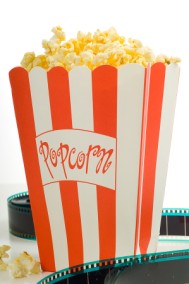 Spy Kids 4: All the Time in the World
(August 19, 2011) With this fourth installment, director Robert Rodriguez brings back his Spy Kids after an eight year hiatus. The action centers on the evil Timekeeper, played by Jeremy Piven, who is determined to stop time. Jessica Alba, who worked with Rodriguez on his most recent film, Machete, plays a mom and former spy who is forced out of retirement to fight the Timekeeper. Rated: PG
Top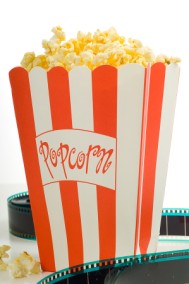 = kid friendly
.com/entertainment/movies/summer-blockbusters-2011.html
Trending
Here are the facts and trivia that people are buzzing about.