Clinton Scandal | Where Are They Now?
Updated February 28, 2017 |
Infoplease Staff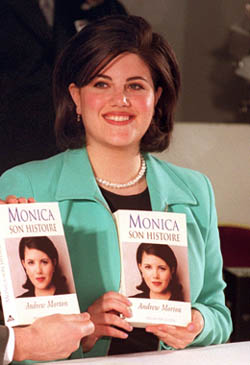 Related Links
When the Country is absorbed by a scandal or phenomena (Ricky Martin, Monica, O.J.), it seems the star will never fade. But inevitably, it does.
What happened to past newsmakers who've fallen off the radar screen? Take a look back at the presidential scandal we'd all like to forget, but can't—Bill Clinton's affair with intern Monica Lewinsky.
Indeed, the affair was fodder for George W. Bush, who made character an issue in the 2000 presidential race and attacked Vice President Al Gore's association with Clinton. Clinton himself made another public apology for his wayward behavior days before the Democratic National Convention. Then, hours before Gore's acceptance speech, word leaked out that Independent Counsel Robert Ray had impaneled a grand jury a month ago to decide whether or not the president should be indicted upon leaving office.
Monica Lewinsky
Grand dame of self-promotion Monica Lewinsky has certainly capitalized on her fame and done anything but shun the spotlight. In addition to promoting her highly publicized, best-selling biography, Monica's Story, written with Princess Diana's biographer, Andrew Morton, Lewinsky has become a spokeswoman for diet company Jenny Craig.
Lewinsky has also created a line of purses, which are much more exotic in name than appearance. (Moroccan Mermaid, Marrakech Kasbah, and Bali Bamboo "Blue" are the names of some bags in her collection.) She has made several high-profile television appearances, including 20/20 and Saturday Night Live.
Linda Tripp
Linda Tripp has reinvented herself—literally. Her $30,000 makeover (financed by an anonymous "philanthropist") included a face- and eye-lift, a nose and chin job, and neck liposuction, all performed by Los Angeles plastic surgeon Dr. Geoffrey Keyes. She also sought the services of celebrity stylist Yuki Sharoni, who sheared her long, tacky locks and transformed them into a conservative layered bob.
In May, Maryland state prosecutors dropped illegal wiretap charges against Tripp. She was indicted for recording a December 22, 1997, phone call with Lewinsky and for illegally revealing its contents to the magazine Newsweek in January 1998. Maryland law forbids recording phone conversations without the permission of both parties. Under the state law, an individual can only be prosecuted for wiretapping if they are aware of the law.
She has returned to her post in Arlington, Virginia, as a public-affair specialist at the Defense Manpower Center.
Kenneth Starr
Kenneth Starr has been busy since he stepped down as independent counsel in October 1999. He's been teaching law at New York University, making rounds on the lecture circuit, and volunteering as a constitutional law instructor at Washington D.C.'s Anacostia High School. He also wrote a book about the Supreme Court, which is scheduled to be published in 2001.
He plans to return to Kirkland and Ellis, the law firm he took a leave of absence from in 1998.
---