Cite
The Sacagawea Golden Dollar
Updated February 28, 2017 |
Infoplease Staff
The first new coin of the millennium

Ever wanted to know where the dollar sign originated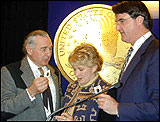 Senator Ben Nighthorse Campbell and U.S. Mint director Philip Diehl with artist Glenna Goodacre, designer of the coin's image of Sacagawea.
The Sacagawea Golden Dollar coins debuted in January 2000. The new dollar coin replaced the Susan B. Anthony (SBA) dollar coin, which had circulated since 1979. Because demand had increased for a dollar coin in commerce, the government's supply of SBA dollars was nearly exhausted, creating a need for a new dollar coin that would be easily distinguishable from other change.
.com/spot/sacagawea1.html
Trending
Here are the facts and trivia that people are buzzing about.