How Prince Charles and Diana's 1981 Royal Wedding Compares
Updated February 11, 2017 |
Infoplease Staff
Check out the differences and similarities between the two weddings.
---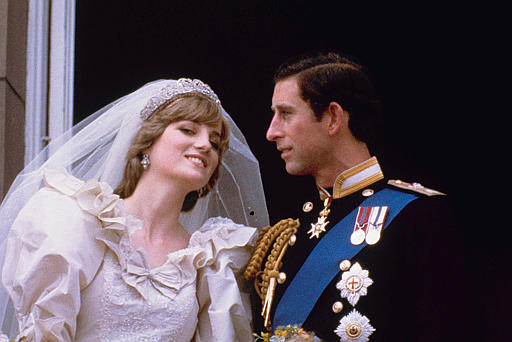 Princess Diana and Prince Charles on their wedding day
Source: ASSOCIATED PRESS
Thirty years ago, more than 750 million people worldwide tuned in to see Lady Diana Spencer wed Prince Charles at St. Paul's Cathedral. Even though the union of Charles and Diana didn't last, the ceremony became the idealized wedding for a generation of future brides, and the fascination with their fairy-tale wedding lives on. Indeed, Diana's wedding gown, along with its 25-foot train, has been touring the United States as part of the traveling exhibition "Diana, A Celebration." With video clips from their wedding readily accessible, fans can relive memorable scenes from the event: the couple stumbling over their vows, the public kiss on the balcony of Buckingham Palace, Diana in her ivory silk gown.
If 750 million people watched Diana and Prince Charles say "I do," how many will tune in to see Kate Middleton marry Prince William? Odds are many more will be watching the wedding of Charles and Diana's first born. There are more television viewers today and more ways to watch than in 1981. Viewers can watch online and discuss the live event as it happens on blogs, Facebook, Twitter, and other sites. Not to mention there are now more networks, cable channels, and entertainment shows like Access Hollywood, Extra, and Entertainment Tonight ready and eager to cover the big event. These forms of networking and media coverage will only increase the buzz surrounding the big event in ways viewers of the 1981 nuptials never imagined. In the 30 years between the two weddings, a lot has changed. Here's a look at how the two weddings compare.
The Date
With the date set for April 29, 2011, William and Kate are opting for a spring affair. Charles and Diana chose a summer wedding, tying the knot on July 29, 1981. William and Kate's wedding date coincides with St. Catherine's Day. It is unknown if the couple intentionally chose that date. Since their engagement, the palace has been referring to Kate as Catherine.
The Age Difference
At age 29, Kate Middleton will be considerably older than 20-year-old Diana was on her wedding day. William, who will be 28 on his wedding day, is beating his father to the altar by four years. While Diana emerged from obscurity to marry Charles, Middleton, having dated Prince William for nearly 8 years, has experience with the media and paparazzi. The media spotlight will not be such a shock.
The Ring
William carried his mother's engagement ring in his backpack for three weeks during a vacation in Kenya before proposing to Kate. Diana picked out the 18-carat oval sapphire surrounded by diamonds for an engagement ring. Priced at $60,000 when chosen by Diana, the British press quickly renamed the stone "commoner's sapphire" because of its relative affordability. The stone is appropriate for Middleton, who is also a commoner.
.com/world/countries/british-royalty/charles-diana-wedding.html