Seasonal Color Analysis
Updated February 28, 2017 |
Infoplease Staff
Find out how to choose the right colors to wear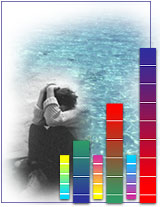 Related Links
When it comes to selecting a wardrobe, people usually have an idea of what colors work for them and what colors to avoid. Is this intuition, a keen sense of style, or is there science behind the process?
Color analysis supports those who argue in favor of science. Carole Jackson's 1980 book, Color Me Beautiful, became the standard for seasonal color analysis, spent seven years on the New York Times bestseller list, and spawned a new fashion trend, "having your colors done."
Color analysis can save you time, money, and closet space. If you know what colors work best for you, you can shop more efficiently, leave the clothes that don't flatter you in the store (with barely a glance), and shrink your wardrobe. Plus, wearing the right colors makes you look and feel good.
Color Analysis Made Simple
Here are the basics. Seasonal color analysis is based on skin tone, eye, and hair color. To simplify, hair color is either light or dark, and skin is either warm (blue/pink) or cool (yellow). After establishing tones, each person falls into one of four seasonal categories: winter, summer, spring, or autumn.
To determine whether your skin is warm or cool, do the white paper test. Stand in front of a mirror with a blank sheet of white paper held up next to your face. Close your eyes. Open. Look in the mirror. Does your face seem to cast a yellow or blue tone to the paper? Cool-toned people usually have blue, green, or grey eyes with blond, black, or brown hair. Those with warm skin tones often have brown, black, or hazel eyes with black, brown, blond, red, or strawberry blond hair.
Tips for Cools
If you are cool, you are either a winter or a summer. If you are cool with dark hair, you are a winter. For winters, it's black and white. Winter people are the only ones who can wear bright white and have black on their list of truly flattering colors. They also should stock their closets with deep, rich jewel tones. Earth tones and any middle-of-the-road colors should be avoided for winters.
If you are cool with light hair, you are a summer. Summers look best in quieter colors, such as blue-gray, rose-browns, and heathers. They should avoid bright colors and stick with soft pinks, blues, and whites. Their "black" should be charcoal.
Tips for Warms
If you are warm, you are either a spring or an autumn. If you are warm with light hair (gold or red undertones/highlights), you are a spring. Springs should think bright and cheerful—aquas, turquoise, and salmon. Collect warm neutrals such as khaki, stone, and off-white, and avoid white and black.
If you are warm with dark hair, you are an autumn. Earth tones are the background where the autumns glow. Olives, golden browns, and warm grays are best for autumns, who should avoid clear bright shades, black and white, and pastels.
All this is not to say that you summers can't throw caution to the wind and hit the town in bright fuschia and teal, but color does make a difference. Why not harness the transformative power of color and use it to your best advantage?
.com/world/art/seasonal-colors.html