India Map: Regions, Geography, Facts & Figures
Welcome to our comprehensive guide to India, a diverse and vibrant country in Asia. Situated between China and Pakistan, India is a mosaic of unique cultures, languages, and landscapes. This guide aims to provide an all-encompassing view of India, from the bustling capital city of New Delhi in the National Capital Territory to the serene beaches of Andaman and Nicobar Islands. India is an expansive country with diverse terrain. Its landscape extends from the lofty Himalayas in the north to the flat Deccan Plateau in the south and contains experiences for many travelers to enjoy.
If you want to discover more in-depth information on India as a country, check out our India Profile!
Plus, test your country knowledge with our Indian geography quiz on the India Map!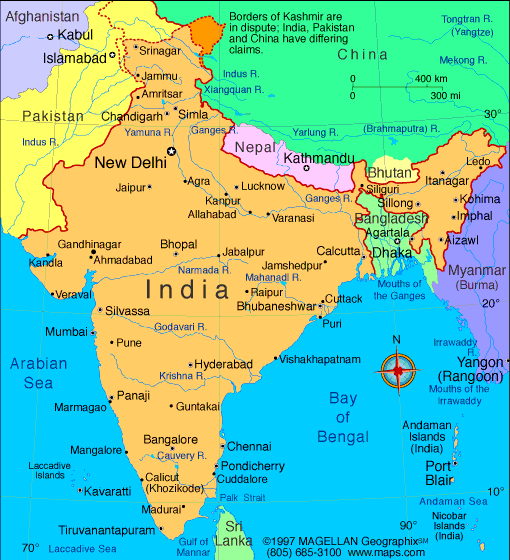 History of India
The history of India dates back thousands of years. Ancient civilizations such as the Indus Valley civilization and Vedic culture flourished in this region around 4000 B.C. The Maurya Empire (322–185 B.C.), the Mughal Empire (A.D. 1526–1857), and the British Raj (A.D. 1858–1947) were major powers in the subcontinent during different periods of time. India won its independence in 1947 and is today the world's largest democracy, with a population of over 1.4 billion people.[1]
The Formation of Indian States and Union Territories
India's political map has been shaped by its rich history. It comprises 28 states, including Punjab, Maharashtra, West Bengal, Rajasthan, Tamil Nadu, Assam, Andhra Pradesh, Jharkhand, Kerala, Himachal Pradesh, Haryana, Uttar Pradesh, Karnataka, Madhya Pradesh, Chhattisgarh, Bihar, and Uttarakhand.
Additionally, it has eight Union territories: Chandigarh, Dadra and Nagar Haveli, Daman and Diu, Lakshadweep, Puducherry, Ladakh, Jammu and Kashmir, and the Andaman and Nicobar Islands.
India's Language Diversity
India's linguistic diversity is as vast as its landscape. While Hindi is the most commonly spoken language, English is also widely used, particularly in cities like Hyderabad, Kolkata, Mumbai, Chennai, and Jaipur. Each state has its own regional language, further adding to the rich tapestry of Indian culture.
Geography of India
India, located in southern Asia, is bordered by several countries: Pakistan to the west, China, Nepal, and Bhutan to the northeast, and Bangladesh and Myanmar to the east. It is surrounded by the Arabian Sea to the west and the Bay of Bengal to the east. The states of India are strategically placed, with Sikkim nestled among the Himalayas and Goa touching the Arabian Sea.
India's geography is as diverse as its culture, with lush plains, rugged mountains, and coastal areas. The northern states, like Himachal Pradesh and Uttarakhand, are home to the majestic Himalayas, while the southern states, like Kerala and Tamil Nadu, are known for their beautiful beaches and backwaters.
Tourist Attractions in India
The map of India is home to numerous tourist attractions, including religious sites, areas steeped in history and cultural importance, and many natural wonders. Let's take a closer look at some of these!
Indian Historical Monuments
India is rich in history and heritage, with countless historical monuments scattered across its states and territories. The Taj Mahal in Agra, Uttar Pradesh, is perhaps the most iconic of these landmarks. Rajasthan's capital, Jaipur, also known as the Pink City, is replete with palaces and forts that speak volumes about India's royal past.
The Natural Beauty of India
The Andaman and Nicobar Islands, with their pristine beaches and clear waters, are a paradise for nature lovers. Similarly, the Union Territory of Lakshadweep in the Arabian Sea is known for its coral reefs and scenic beauty. In the north, the state of Sikkim offers breathtaking views of the Himalayan range.
Major Cities in India
India has several major cities, each with its own unique charm. Bangalore, the IT capital of India, is a bustling metropolis. Kolkata in West Bengal and Mumbai in Maharashtra are both rich in culture and history. Other popular destinations include Lucknow, Hyderabad, New Delhi, Chennai, Chandigarh, and Ahmadabad.
People Also Ask…
If you're inspecting maps of India, you may have some queries about the region. Here are some of the most frequently asked questions, along with their answers.
Where Is India on the Atlas?
India is located in South Asia, with its coordinates being 20° N latitude and 77° E longitude. It borders Pakistan, China, Bangladesh, Myanmar, Nepal, and Bhutan.
What Are the Four Sides of India?
India is bordered by Bangladesh, Nepal, Bhutan, and Myanmar to the north; China to the northeast; Sri Lanka and the Maldives to the south; and Pakistan, Afghanistan, and Iran to the west.
What Are the 28 States and 8 Union Territories of India?
The 28 states of India are Andhra Pradesh, Arunachal Pradesh, Assam, Bihar, Chhattisgarh, Goa, Gujarat, Haryana, Himachal Pradesh, Jharkhand, Karnataka, Kerala, Madhya Pradesh, Maharashtra, Manipur, Meghalaya, Mizoram, Nagaland, Odisha, Punjab, Rajasthan, Sikkim, Tamil Nadu, Telangana, Tripura, Uttar Pradesh, Uttarakhand, and West Bengal.
The eight Union territories are Andaman and Nicobar Islands, Chandigarh, Dadra and Nagar Haveli, Daman and Diu, the Government of NCT of Delhi, Lakshadweep, Puducherry, Ladakh, and Jammu and Kashmir.
What Is the Capital of India?
The capital of India is New Delhi, which is part of the National Capital Territory. It is located in the northern part of India and serves as the center of government in the country.
What Are the Major Tourist Attractions in India?
India is home to numerous tourist attractions, including the Taj Mahal in Agra, Uttar Pradesh; the palaces and forts of Jaipur, Rajasthan; the beaches of Goa and the Andaman and Nicobar Islands; and the Himalayan range in Sikkim and Himachal Pradesh.
More Geographic Information
Sources
[1] India Population (2023) - Worldometer. (n.d.). Retrieved October 30, 2023, from https://www.worldometers.info/world-population/india-population/
Trending
Here are the facts and trivia that people are buzzing about.