Cite
Elizabeth Dole
Updated February 28, 2017 |
Infoplease Staff
Breaking down gender barriers
This article was posted on August 17, 1999.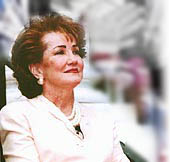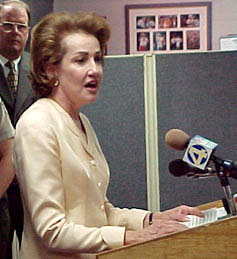 "I can remember a time when the very idea of a woman as an equal of her male political counterpart seemed as unlikely as ? well the idea that a professional wrestler could be elected governor of an American state."
? Elizabeth Dole
Related Links
Stumping on her own behalf
An ultimate Washington insider, Elizabeth Dole was appointed by three presidents to executive positions, but she has never been elected to office. That doesn't mean she's not experienced on the campaign trail. She stumped relentlessly for her husband, the former Senator Robert Dole, when he sought the Republican nomination for president in 1980, 1988, and 1996.
As one of the most experienced, successful women in Washington, Dole is perhaps the most viable woman in contemporary politics to launch a bid for the presidency. But she faces an uphill battle against the money machines of Gov. George W. Bush and Steve Forbes. Dole has only raised about $3.5 million - less than one-tenth of Bush's war chest. In the recent Iowa straw poll, Dole placed third behind Bush and Forbes, both of whom were widely accused of buying votes.
Republicans, independents, and...women?
Like her Republican rivals, Dole has yet to give a solid policy speech. However, she caused ripples in the party when she broke ranks and endorsed child-safety locks on handguns, the assault-weapons ban, and instant background checks before a person buys a firearm. Dole seems to be courting centrist Republicans, independents, and, of course, women. It's not yet clear if Dole plans to use gender as a weapon. Thus far, she has both embraced the issue and downplayed it.
As charming as she is one-on-one, Dole has trouble communicating in front of large audiences and her affability is masked by scripted speeches. Just as Vice President Al Gore is trying to loosen up, Dole is practicing a less rehearsed tone.
"Some pundits say that I'm scripted," she recently poked fun at herself, "but according to my notes, that's not true."
Breaking down barriers
Dole has been breaking gender barriers her entire career. She was born on July 29, 1936 in Salisbury, North Carolina. After graduating from Duke in 1958, Dole (then Elizabeth Hanford) entered Harvard's graduate program in education and political science and graduated with an M.A. in 1960.
Still not satisfied, she enrolled in Harvard Law School in 1962. There were only 24 women in the class of 550 students. She finished in 1965 and headed straight for Washington, where she briefly defended destitute clients before landing a position in 1967 with the Department of Health, Education, and Welfare as staff assistant.
In 1968 Dole joined President Johnson's Committee for Consumer Interests, where she served as associate director of legal affairs, and later, executive director under prominent consumer activist Betty Furness. When Nixon was elected president, Dole remained, leading the committee when it became the Office of Consumer Affairs. At that time a Democrat, Dole moved to the right and registered as an Independent. (She became a Republican after marrying Bob Dole.)
What about Bob?
Dole met her future husband in 1972. They didn't start dating until 1974, and were married a year later. The couple never had children, but Bob has a daughter from his previous marriage.
As Bob Dole rose through the ranks of the Republican party, Elizabeth continued her own ascent. President Nixon appointed her to the Federal Trade Commission, from which she took a leave of absence when Gerald Ford picked Bob Dole as his running mate in 1976.
She left for good in 1979 to campaign for her husband once again, this time for his own Republican presidential nomination. When he dropped out, Elizabeth Dole signed on with the Reagan-Bush camp. Her loyalty won her a position in the Reagan administration, as assistant to the president for public liaison.
Reagan's first woman cabinet member
Dole's used her Southern charm to sell Reagan's economic plan to business leaders, unions, and other groups. In January 1983, Reagan appointed her as secretary of transportation, the president's first woman cabinet member. Dole's accomplishments in the post included mandating that manufacturers install a third brake light in all cars and raising the drinking age to 21.
She resigned in 1987 to again stump for her husband's bid for the presidency. Elizabeth Dole's name was tossed around as Republican nominee George Bush's running mate. President Bush appointed Elizabeth Dole as secretary of labor - a position she held for less than two years.
She quit in 1990 to become president of the American Red Cross. She faced the formidable task of revamping the collection and sale of blood. The FDA stepped in when it determined that Dole's proposed changes were not implemented swiftly enough. Both sides agreed on a five-year reform plan.
In 1995, Dole once again took time off to campaign for her husband. This time around, she wisely took a leave of absence. She said goodbye to the Red Cross for good in January 1999 to campaign for the Republican presidential nomination. But this time, she wasn't campaigning for her Bob Dole.
It was for herself.
[ CAMPAIGN 2000 FACTSHEET ]
.com/spot/elizabethdole1.html
Trending
Here are the facts and trivia that people are buzzing about.