Tiger's Place in History
Updated February 28, 2017 |
Infoplease Staff
Anything is possible when Woods plays in golf's biggest events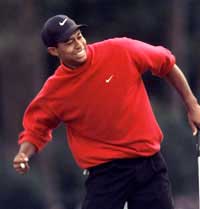 Related Links
By winning the 65th edition of the Masters Tournament on April 8, Tiger Woods became the first golfer to hold all four PGA Tour major-tournament titles simultaneously.
It's an accomplishment that, given the high-profile status of the sport today, even the most optimistic golf fans thought impossible.
A Career-Changing Event
Golf's major tournaments feature the world's best competition, the richest prizes, and the largest television audiences of the season. That immense pressure makes winning one major a career-changing event. Winning four in a row seemed impossible.
But Woods has made a career out of doing the impossible in golf.
With his victory at the 129th British Open in July 2000, he became the youngest golfer (24 years old) to complete a career Grand Slam—that is win all four major tournaments at least once during a career.
Other Grand Slam Golfers
There are only four other golfers that have won career Grand Slams: Gene Sarazen, Ben Hogan, Gary Player, and Jack Nicklaus. All four are World Golf Hall of Fame members.
Woods' unprecedented 4-0 winning streak in major tournaments began in 2000. After a fifth-place finish at the 2000 Masters, he swept the three remaining major tournaments on the schedule: the U.S. Open, British Open, and PGA Championship.
If you add in his victories at the 1997 Masters and the 1999 PGA Championship, Woods totals six major titles overall.
Next Stop: The U.S. Open
The next major tournament of the year will be the 101st U.S. Open at Southern Hills Country Club in Tulsa, Okla from June 14-17.
But the chance of Woods winning five straight majors is impossible, right?
---
.com/spot/tigerslam1.html