Top World Religions
Religiously unaffiliated rank third among religious adherents worldwide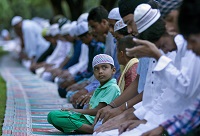 India Eid al Fitr

Source: AP Photo/Channi Anand
Related Links
The Religiously Unaffiliated now rank as the world's third largest religious group, after Christians and Muslims. According to a report recently released by the Pew Research Center, this means that 1.1 billion people, or 16% of the world's population, are atheists, agnostics, or people who do not identify with any particular religion in surveys.
Where Are the Unaffiliated?
Numbering 858,580,000, the majority (76%) of the religiously unaffiliated live in Asia and the Pacific. The rest are in Europe (12%), North America (5%), Latin America and the Caribbean (4%), sub-Saharan Africa (2%) and the Middle East and North Africa (less than 1%). China has the largest unaffiliated population—half of its citizens do not lay claim to a religion. After China's lion's share of 62.2% of the world's unaffiliated population, Japan contributes 6.4% and the U.S. follows with 4.5%.
Religion in the Future
In terms of age of adherents, the youngest world religion is Islam, with a median age of 23. Hindus have a median age of 26. At 30, Christians are in the middle of the age spectrum, followed by folk religionists (33), the unaffiliated (34), Buddhists (34), and Jews (36). The median age of the world's population is 28.
The table below lists the largest religious groups by percentage of global population.
| Religion | Percent world population |
| --- | --- |
| Christians | 31.5 |
| Muslims | 23.2 |
| Religiously Unaffiliated | 16.3 |
| Hindus | 15.0 |
| Buddhists | 7.1 |
| Folk Religionists | 5.9 |
| Other Religions | 0.8 |
| Jews | 0.2 |
NOTE: The category Folk Religionists includes followers of African traditional religions, Chinese folk religions, Native American religions and Australian aboriginal religions. The category Other Religions includes Baha'is, Jains, Sikhs, Shintoists, Taoists, followers of Tenrikyo, Wiccans, Zoroastrians and many other faiths.
Source: Pew Research Center's Forum on Religion & Public Life, Global Religious Landscape, December 2012.