LZR Racer
Updated February 28, 2017 |
Infoplease Staff
The world's fastest swim suit
by Elizabeth Olson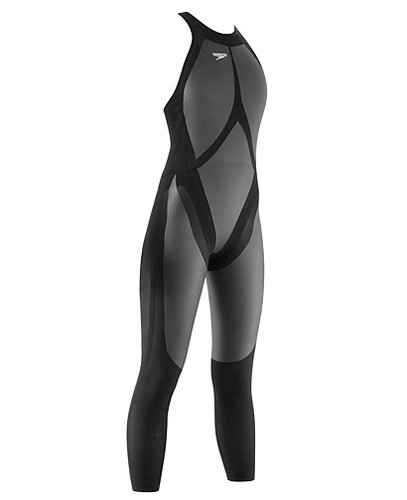 The LZR © Speedo
It uses NASA technology, is ultrasonically fused together, and is called the Laser. A new type of weapon? The latest invention in rocketry? No. The Laser, or LZR Racer, is a swimsuit.
Smashing Records
Since its release in February 2008, the new, full-body Speedo racing swimsuit is attributed to more than 35 world record times. The Laser suit has been called the world's fastest swimsuit. With the help of NASA technology, the Laser is the most aerodynamic suit on the market, making "swimmers go at least 2% faster," according to Speedo. At the FINA World Championships in Manchester, England, in April 2008, 17 world records were broken by swimmers who were wearing the Laser.
Michael Phelps, Katie Hoff, Natalie Coughlin, and many other Olympic swimmers have smashed records and achieved personal best times while wearing the Laser, claiming it makes them feel like a torpedo flying through the water.
Development of the world's fastest suit
Over three years, Speedo worked with NASA, ANSYS, Otago University, and the Australian Institute of Sport to develop the Laser. More than 60 materials were tested for surface drag in NASA wind tunnels to produce a suit with the lowest surface friction. The result is the fastest design on the market.
The LZR Racer was not only designed with the most water repellant and lowest friction fabric on the market, but it was also constructed to compress the body into its maximized streamlined shape with full range of movement. Instead of the traditional sewing of fabric, the Laser suit fabric is ultrasonically fused together.
All suits aren't created equal
There is speculation that wearing the suit may increase buoyancy, giving swimmers an unfair advantage over other competitors in the pool, especially since the Laser was released just in for the 2008 Summer Olympic Games. Swimmers sponsored by companies other than Speedo, such as TYR, are obligated to wear a suit that does not match up to the Laser. While the Laser has been called "technological doping," the International Swimming Federation insists that "the Laser does not give swimmers an unfair advantage."
.com/sports/swimming/lzr-racer.html