Cite
Foday Sankoh: Sierra Leone's Rebel with a Cause
Updated February 28, 2017 |
Infoplease Staff

Cite
Sierra Leone's Rebel with a Cause
by David Johnson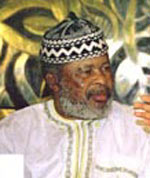 Related Links
For more information, visit the Human Rights Watch web site dedicated to Sierra Leone
By most accounts, the portly, cheerful, former army corporal seems more like a wedding photographer, a former occupation, than the leader of one of the world's more gruesome military organizations, which he has since become.
But like many leaders, Foday Sankoh, 64, the Sierra Leonean warlord, is a contradiction. Although he is affectionately known as Papa by his troops in the Revolutionary United Front, RUF, Sankoh is so widely despised in Sierra Leone, that cheering, dancing people filled the streets as news of his May 17 capture spread throughout Freetown.
Captured and Reviled
Soldiers shot Sankoh in the thigh as he attempted to avoid capture, according to the Concord Times of Freetown. The bleeding Sankoh was surrounded by a mob that beat him, pulled off his clothes and paraded him naked through the streets. He was eventually taken into military custody. The international human rights organization Human Rights Watch is urging that Sankoh receive a fair trial to reinforce the rule of law in Sierra Leone.
His capture came nine days after he had disappeared from his home where he had been detained under house arrest. The rebel leader has been captured before. He was sentenced to death in 1998, but his RUF forces responded with a horrific invasion of Freetown. West African troops, led by Nigeria, repulsed the attack several weeks later. Sankoh subsequently received amnesty in return for signing the July 1999 peace treaty.
RUF rebels, believed to be about 15,000 strong, continued to dominate much of the countryside however, including valuable diamond mines. In their most recent reign of terror on the country, the RUF captured some 500 peacekeepers in the beginning of May. A number had been released prior to Sankoh's capture and there has been speculation on how his arrest would affect the release of the remaining hostages.
An Idealistic Start
Sankoh began his political career in the 1970s, as a critic of widespread corruption. Sierra Leone's military and political elite were plundering the diamond and other mineral wealth of the tiny nation, whose people are considered to be among the world's poorest.
After losing his job as a TV camerman for his anti-government views, Sankoh was briefly imprisoned. Increasingly radicalized, he joined other Sierra Leonean dissidents in Libya, where Col. Muammar al-Gaddafi was sponsoring revolutionary movements throughout the world. He later went to Liberia, where he joined forces with another young charismatic—and ruthless revolutionary leader—Charles Taylor, who became president of his country after a brutal civil war.
Eventually returning to Sierra Leone, Sankoh was one of the founders of the RUF. But the high-minded movement to eliminate corruption soon degenerated, as impoverished young men sought to make their own fortunes.
The RUF quickly earned a savage reputation, as they amputated limbs of civilians, routinely raped women and girls and abducted boys to join their army. Young recruits were often forced to rape or kill a family member, thus preventing a return to their previous lives. RUF young soldiers were often forcibly injected with cocaine before going into battle.
Sources: BBC, New York Times, Washington Post, CNN, Concord Times (Panafrican News Agency), africana.com, Human Rights Watch
Trending
Here are the facts and trivia that people are buzzing about.